We all but gave up on Nine Continent hub motors in recent times for a lot of reasons (inadequate disc clearance, poor paint job, inconsistent wheel lacing, improper connector crimping etc.). But things change, and we were truly blown away when we got samples of their latest 2014 model of rear motor this summer. It was one of several motors we've been evaluating that finally uses splined cassette freehubs rather than screw-on freewheels for the rear cog set.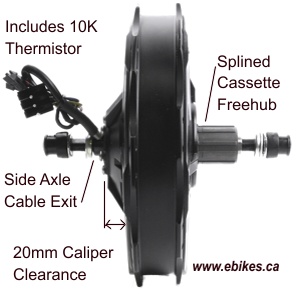 Shimano Compatible Cassette Freehub
30mm Wide Stator Core (vs 27mm in older model)
20mm Clearance for Disk Calipers
Side Axle Wire Exit
10K Thermistor for Temperature Sensing
Paired spoke holes
Diecast aluminum stator core
Future tech styling
We've now got a large supply of these available in a very fast (3004), fast (3006), and medium speed (3007) winding, both as bare motors or in a complete kit form.
The performances are fully modeled on the motor simulator (as NineCont 300X), on our spoke calculator, and we've produced a mechanical diagram of all the key dimensions from our 3D CAD model. That should be sufficient data to have you sold!
We also made the decision to stock them all unlaced, given you the option of low cost international shipping, or having a quality hand-built wheel custom laced into the rim of your choice with butted Sapim spokes. As part of this process, we've increased the range and type of rims we carry, adding a new PR17 series in 20", 24", 26", and 700c. All these goods are in stock and ready to ship for your winter build projects.