We're hoping that everyone has had great holiday season and are excited as we are for the 2019 year ahead. There are a few things we pulled off in December worth sharing.
Powerful Rear Motor Options
We have added two new direct drive hub motors to our offerings. One is a Thru-Axle version of the Crystalyte Crown TC3080 motor. This is the first 142x12 rear thru-axle motor that's been available for aftermarket conversions and is well suited for modern mountain bikes shooting for 1-3kW power levels.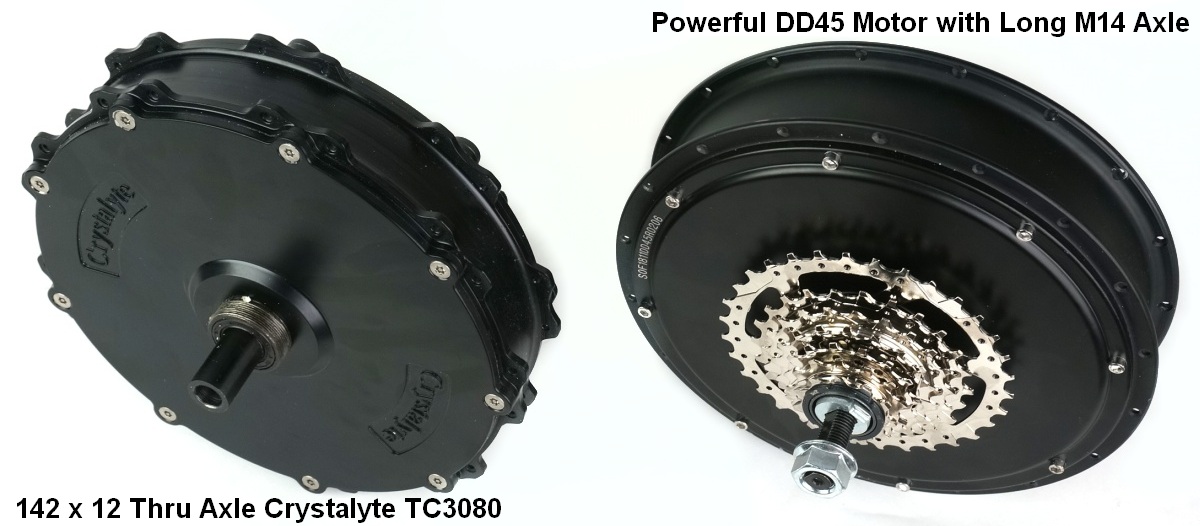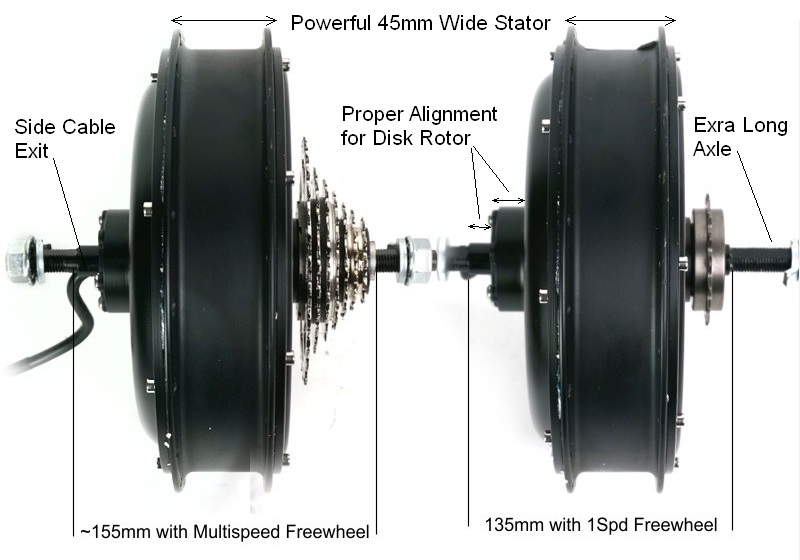 The other is our first foray into the larger 45mm wide motor series, similar to those sold by MXUS, QS, Leafbike etc. as 3KW or 5kW hubs. We got these made up to properly fit either a standard 135mm dropout with a single speed freewheel, or a 150mm dropout with a 7-8 speed freewheel and some spacers. As expected from Grin they are sealed, include a 10K thermistor for temperature sensing, and have a disk hole injection port for Statorade, and are hubsink compatible. Check out the performance on our simulator both with and without statorade. Unlike so many other direct drive motors, both of these have the proper alignment for disk rotor position and room for disk calipers without shimming things out.
---
3D CAD Models
We get asked on occasion for 3D models of the hub motors we offer from people doing full CAD mockups of their ebike project. And what better time than Christmas to make this all available to you.

The 3D IGS files for most of the motors that we've mechanically modeled are now available in the "additional information" tab on our store site and in a list on our documents page.
---
CA3.13 Firmware Family
The 3.1 Cycle Analyst firmware has fully solidified with the recent 3.13 release, and in doing this we're also making publicly available a number of customized firmware branches full of special features. These are loosely explained in the CA3 Firmware page, but are worth highlighting here:
Solar Shunt firmware: With this firmware the Cycle Analyst can use the auxilliary input as a second current sensor for measuring and showing the solar amps and watts. You can not only see in realtime how much solar power is coming into the pack, you also get combined statistics such as the %solar recharge and the net wh/km mileage taking into account the solar input for the day. This is the ideal instrument for looking at solar ebike performance, consolodating all measurements in a single device.
GPS Firmware: This net update will be much appreciated by people who have a GPS Analogger device with their CA3. With a simple hardware modification to the Analogger circuit, the GPS data will be transmitted from your existing TRS cable back to the Cycle Analyst. You can then see the time of day, your elevation, position, and direction all on the CA3 screen. The firmware also features additional custom views on the main screen, allowing you to replace or toggle the battery voltage with any of these new parameters to get just the display you are after.
Solar GPS Firmware: Theres even a -SG firmware that combines both the solar current sensor and the GPS code. This firmware produces a log file just like that of our suntrip databox project, and will be invaluable to for those doing performance analysis on solar EV trips.
Fast Log Rate: And to wrap things off, we have a slight version of the standard 3.13 release that includes a much higher 55Hz data logging rate. This has come up when people have wanted to use the Cycle Analyst for looking at rapid transient behavior, from off the line accelleration numbers to current spikes that cause their BMS circuit to trip.
---
Piloting the Baserunner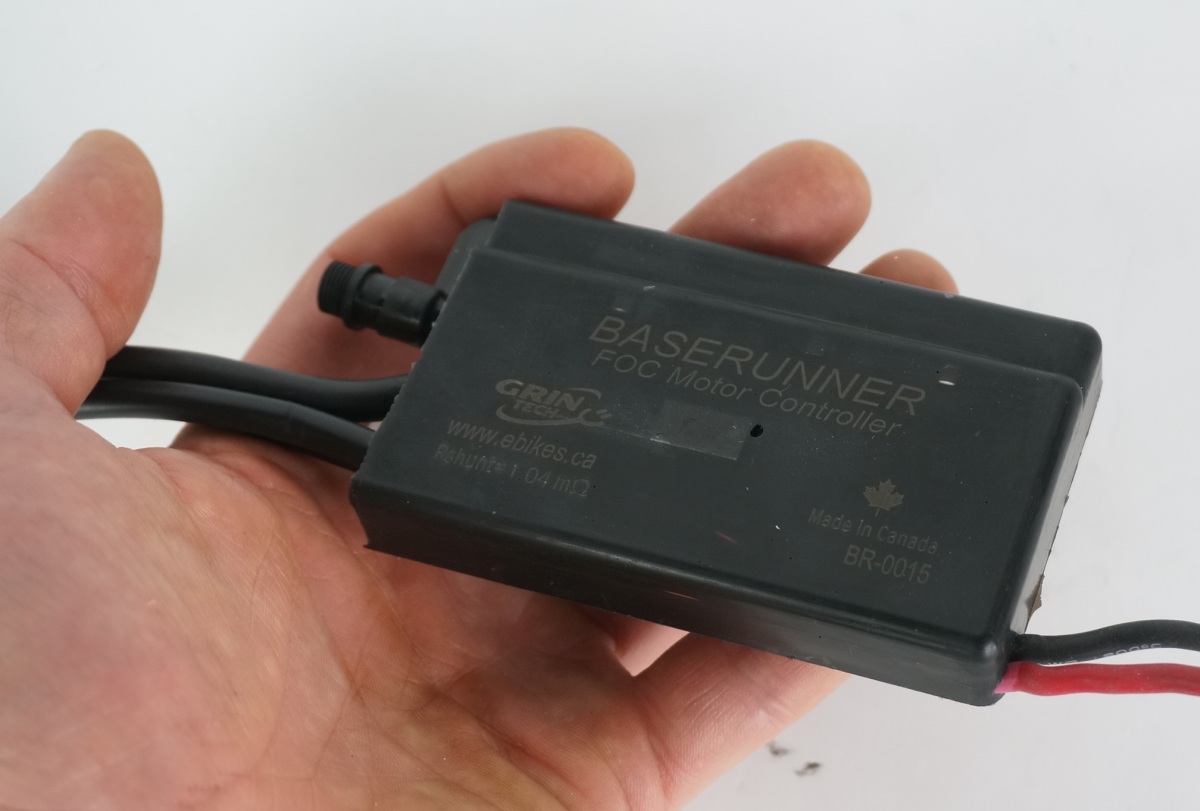 And the last product update to kick off the year is the pilot release of our new Baserunner motor controller. We spent much of last summer and fall trying to cram an even more miniature version of the Phaserunner into compact profile that could fit inside the controller cavity of the popular Hailong downtube battery cradles, and by golly we did it. While not as powerful as the Phaserunner (just 55A max phase current, and 60V max battery voltage), the Baserunner is perfectly suited to the smaller geared and direct drive hub motors using the Higo Z910 plug. This allows for a very tidy installation with no separate controller to mount.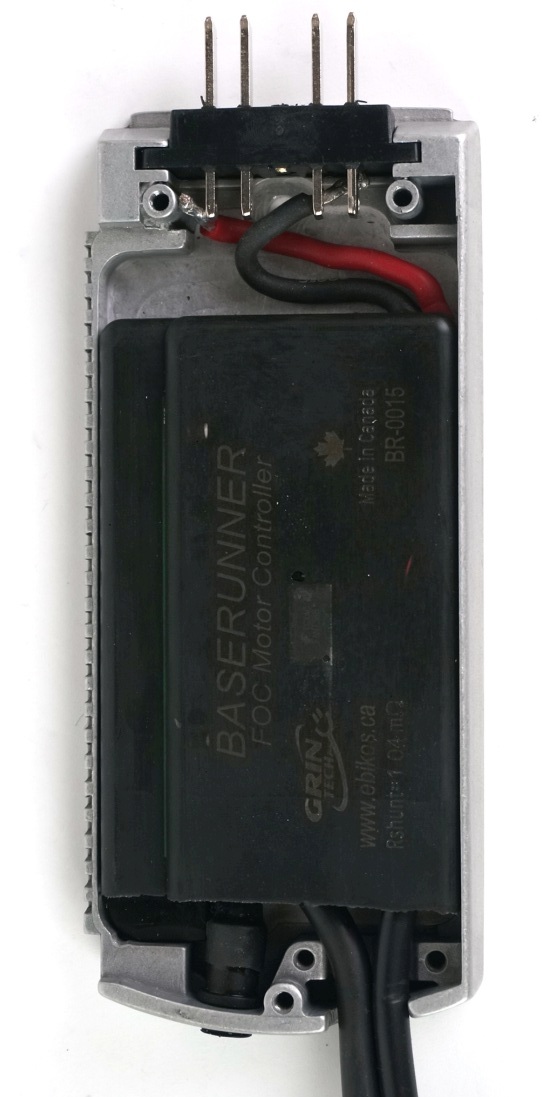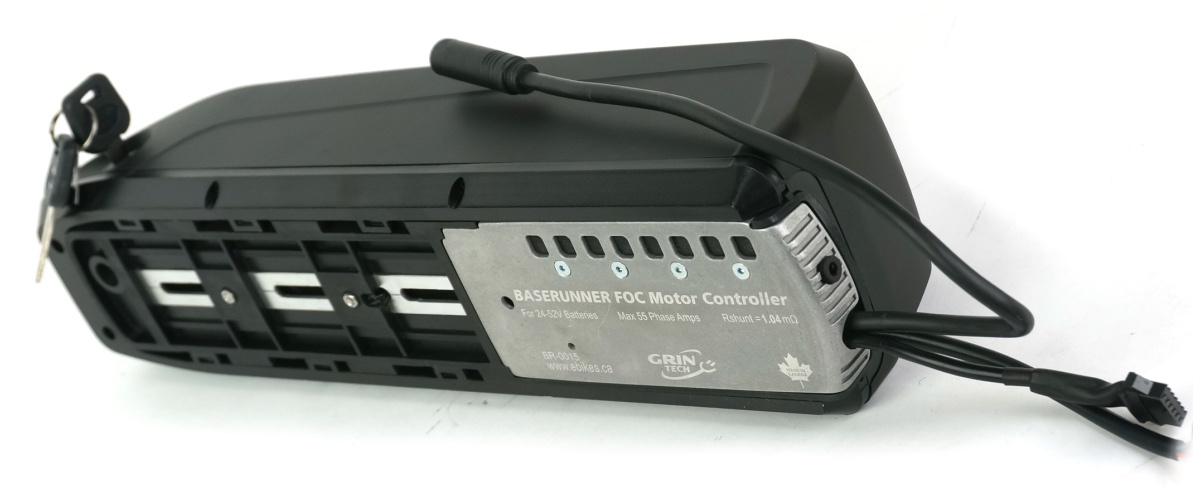 But unlike other battery mounted controllers, the Baserunner also stands on its own too. If you upgrade to a different battery model in the future that doesn't fit the cradle, simply remove the Baserunner from the base and use it as a miniature stand alone controller with your new battery pack. That's Grin thinking about your future options for you.
We are currently producing them in a limited volume for pilot sales to early adopters to purchase either alone or with a G31X kit, and expect to have them in full production in 2-3 months.
---
Video Tutorials
The following 5 video tutorials didn't get a formal blog post last month but are worth a watch if you missed them and have a particular interest in taking apart an eZee motor, replacing an OLED screen, tuning a Phaserunner, repairing a blown controller, or converting your CA to an orange backlight.