The TSM-A5 is a rear direct drive motor system with built-in torque sensing on the cassette freehub. This gives a viable pedal torque signal without the need to install a separate crank-based torque sensor. It also uses a standard rear quick-release skewer to mount in the dropouts, allowing for a faster installation and removal than with threaded axles. Paired with our matching Baserunner Controller, downtube battery, and V3 Cycle Analyst, the TSM-A5 provides a customizable and powerful direct drive motor kit with torque sensing control and minimal installation headache.
Key Features
Torque Sensor: Integrated cassette freehub body from Innotorq allows for simple installation of a highly featured conversion system with proportional pedal assistance.
Direct Drive: The TSM-A5 is robust, smooth, and with substantial power both for acceleration and regenerative braking.
Quick-Release Axle: No need for a massive wrench in your bicycle toolkit. Just release the cam lever and unscrew a single torque arm bolt to remove the wheel from the bike. This also eliminates the large and cumbersome hardware stack present with most threaded axles, and removes any need to file or modify dropouts for the motor to fit.
Frame Mounted Torque Arm: Our custom-made torque arm securely transfers all motor torque down to the bicycle chainstay, with no room for wiggle when the motor switches between acceleration and regen.
Temperature Sensor: When used with a Baserunner_TSM, these motors pass both a speed and thermistor signal to the CA3-WP device for both bicycle speed readings and motor temperature readout with no extra wiring. The built-in temperature sensing means you never have to worry about overheating the motor on long hill climbs, it can automatically roll back power to stay in a safe zone.
Disk Compatibility: The TSM-A5 motor has space for a 6 bolt disk rotor with correct rotor alignment on standard bike frames.
Build Quality: The motor itself is built by the Taiwanese company TDCM, who have a long history of producing well-engineered hub motors to tight tolerances and with great serviceability. This motor is no exception, and you can feel the difference to a standard Chinese hub right away.
Power and Speed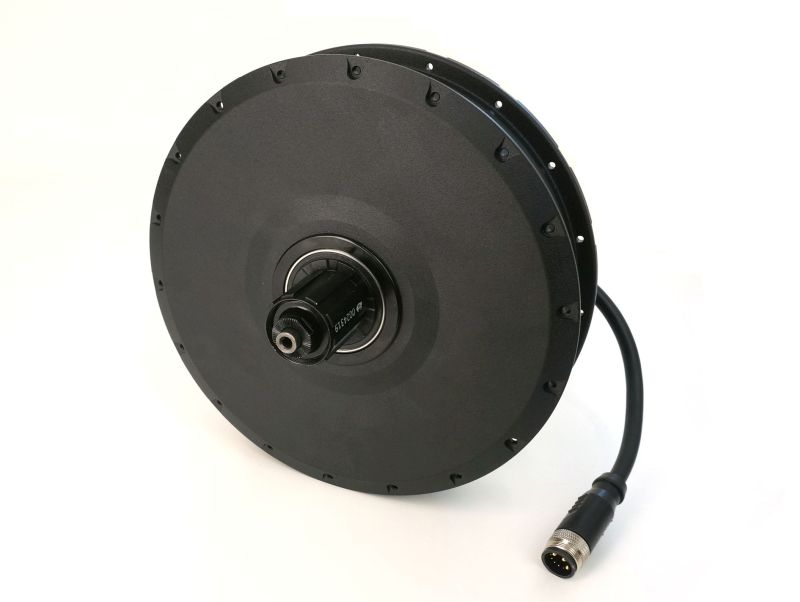 We put these motors in the nominal 600-1200 Watt power class, but because they have a built-in thermistor and feature a robust outrunner motor design it is possible to run them safely at higher power levels and have the system roll back before the inside gets hot. The motors will produce around 80Nm at stall with the Baserunner_TSM controller.
We currently stock the motor in a single winding option, ~8.5RPM/V, which is ideal for most ebike conversions with 24" to 700C wheels. With smaller sized wheel diameters, it may be desired to choose a higher battery voltage or use controller field weakening. With 26" wheels, you will achieve cruising speeds of 32-38 kph with 36V battery packs and 40-48 kph with 48V/52V packs. For exact performance details with any combination of wheel size, battery voltage, and motor winding please have a look at our motor simulator page (Simulate Standard Wind)
Bicycle Fitment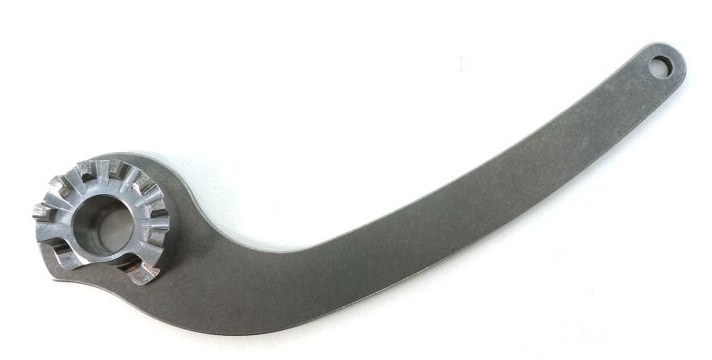 These motors have a natural fit for standard rear quick-release bicycle frames that have 135mm rear spacing. A rear skewer is included with the hub. No modification of the dropouts is necessary, and the disk rotor alignment is correct.
The included torque arm fits with most rear bicycle frames with the included frame clamp. Note that some suspension designs will not be compatible with this style of torque arm.
Wiring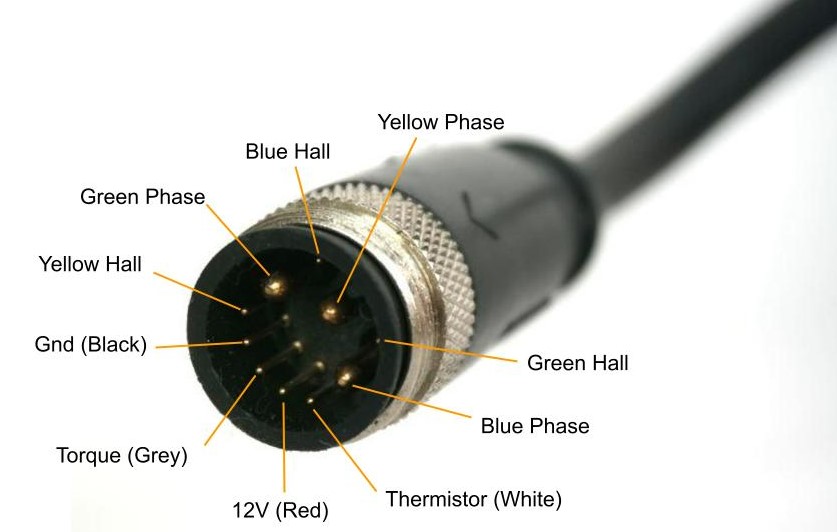 The motor cable exits underneath the torque arm on the disk side of the hub to an overmolded L1019 connector. However the connector signal pinout differs from our normal L1019 motors, and if it is used with our standard L10 controllers the torque, temperature, and speed readings will not be available. For full functionality, we've made a modified version of our Baserunner called the Baserunner_TSM. This has 12V power instead of 5V to enable the operation of the torque-sensing freehub body, it swaps the position of the thermistor from the grey to the white wire, and it routes the motor torque signal on the grey wire in a pass-thru cable to a Cycle Analyst.
Baserunner_TSM Controller
The TSM kit comes with the Baserunner_TSM controller. In addition to the modified wiring on the L10 plug, this controller has an additional 4 pin Higo plug (provided with a 4 pin Higo to 5 pin JST adapter) to feed the torque signal from the motor to the Cycle Analyst. This also passes through PAS signals from the 6pin HiGo plug to the CA as well if a basic PAS sensor is added to the cranks.
Videos
Manual and Downloads
TSM-A5 Motor Dimensional Drawing
TSM-A5 3D CAD File
Specifications
| | |
| --- | --- |
| kV | 8.56 rpm/V |
| Phase to Phase Resistance | 89 mΩ |
| Phase to Phase Inductance | 404 uH |
| Hysteresis Torque | 0.8 Nm |
| Eddie Current Torque | 0.004 Nm/(Rad/sec) |
| Spoke Flange Diameter | 210 mm |
| Flange Spacing | 45 mm |
| Axle Length | 136.5mm |
| Motor Magnetic Pole Pairs | 16 |
| Effective Pole Pairs (for Baserunner) | 16 |
| Output Cable | L1019 Torque, 32cm cable length |
| Thermistor | 10K NTC, 3450 Beta. |
| Motor Weight | 5.85 kg |
Other Details
Statorade Compatibility:
Although this direct drive motor has significant thermal benefits from the use of Statorade, the stock gasket on the motor side plate is not able to prevent Statorade from leaking out. Therefore we do not offer a Statorade upgrade option as we do with our other direct drive motors. However, it seems that additional silicone placed around the gasket can result in a solid seal if a user wants to try this.
Cycle Analyst Settings:
This uses a Cycle Anlayst running the V3.2 firmware in order to support a wheel torque sensor mode. This torque sensor mode calculates the human power based on the wheel RPM isntead of the crank RPM, and most importantly it allows for torque assistance to take place without PAS rpm signals being present. See the V3.2 Firmware Update video for full details on configuring this PAS mode. The kit ships with the CA3.2b3 firmware and all settings already configured.
Use Without a Cycle Analyst:
In future updates it will be possible for the Baserunner_TRQ controller to respond to the torque signal directly using a 3rd party display to control the assist levels. But this mode of operation is not yet flushed out and currently we can only support operation through the V3 Cycle Analyst.
Addition of a PAS sensor:
While part of the appeal of this kit is that it gives pedalec control without having to install anything on the cranks or replace a bottom bracket, the kit functionality can be enhanced with the addition of a 2-wire quadrature PAS sensor on the cranks. This enables the Cycle Analyst to spacially average the torque signal to avoid any amplification of the natural pedal pulses, and it gives the option to support back-pedal activated regen. Grin is planning to stock our basic PAS sensors with a 6 pin male HiGo plug to be compatible with the Baserunner's PAS input, but in the meantime all our PAS sensors have JST plugs and so customer wiring is required to hook one up.
Where to Order
The TSM kits are available from our online store here: