We will gladly welcome orders from pretty much anywhere in the world. The map below shows where some of our recent customers ordered from; all over the USA, Canada, Europe, Australia/NZ, and even South Africa and Korea. Interest in ebikes is poised to be a global phenomenon but hasn't caught on in many places, and if you can't find a local source for your parts yet we'll be glad to help you out.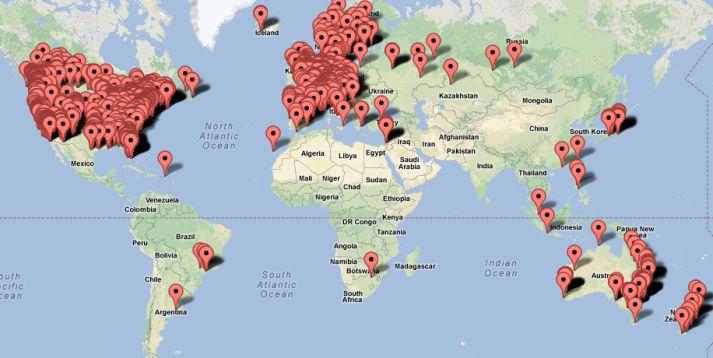 How long does it take to ship?
Most small orders normally take about 1 day to process, pack and ship. For larger orders and kits, it will usually take us 2-3 days to have all the parts put together and tested before the package is ready to go. We usually have to replace poorly crimped connectors, check and adjust wheel truing, discharge test battery packs, and verify operation of all the parts before we arrange them into a box for shipping. Orders such as wheel builds and custom modifications can sometimes take a little longer and it's best to ask us for an estimated leadtime if you want to receive the order for a particular deadline.
Canada
For shipments within Canada we send items using Canada Post or UPS, either regular parcel service for non-rush orders or Xpresspost for those requiring more urgency. Within the western provinces, regular parcel usually only takes 1-3 days, but to the east it is over a week.
USA
For shipping to the United States, we offer Canada Post, UPS and DHL as options. Canada Post offers an Expedited Parcel service taking 7-11 business days, and an Express Post choice of 3-5 days, depending on the state. Both services are transferred to USPS at the border and offer delivery confirmation and insurance, but only the Express Post is trackable on a day-by-day basis. Finally, for smaller packages, there is an option to ship items using Tracked packet.
Rest of the World
For large shipments going everywhere else, we use either Fedex or DHL. Both can offer 2-7 day delivery to just about any destination on the planet, at a rate that is less than parcel mail with the post. Small shipments under 2kg are sent using regular airmail.
Duties, Brokerage, and Taxes
All shipments within Canada will have applicable federal and provincial sales tax (GST, HST, and/or PST) applied to the total depending on the province.
For international shipments including to the USA, Grin does not charge any taxes or fees at the time of check out. However international shipments may be subject to local taxes or import fees. This is dependent on the nature of the shipment, the manufacturing origin of the items, the final destination and the dollar value. Unfortunately we have seen a recent increase in import tariffs on items manufactured in China that are shipping to the USA.
The duty and brokerage situation is largely out of our control. Shipments going via courier (eg FedEx) will usually have the required import paperwork handled by a 3rd party and billed to the receiver at a later date. Air mail shipments are handled differently from country to country depending on the national postal service.
Batteries (Dangerous Goods)
Batteries are considered Dangerous Goods and they must be shipped separately from other components, in order to follow regulations they will be shipped in their own box and may be delivered a couple of days later than the rest of your order.
Local Pickup In Person
If you are a local Vancouver customer then it is still possible to arrange an order pickup rather than having the items shipped. Please choose the "Local Pickup" option when you are in in the checkout page. We will inform you by email when the order is prepared and ready to collect.
Store Location