Page Last Modified On: October 11, 2022
Introduction
Here at Grin we've been designing and making ebike battery mounting brackets from the moment we got our first CNC milling machine. Back then, options were pretty limited for the aftermarket batteries that installed neatly on bike frames. Nowadays even though there are far more generic ebike batteries on the market, the stock mounting solutions still kinda suck. They require water bottle eyelets in a specific location on the frame, with limited for and aft adjustment, and usually result in a wobbly battery that puts excessive stress on the threaded tube inserts.
Our various battery bobs provide a more versatile installation interface that is not dependent on specific eyelet position. We've refined the design to support a multitude of frame geometries and tube diameters, with an attachment that is vastly more secure than a direct mount. The raised bosses provide maximum bolt thread engagement while adding minimal height, and each package comes with the bolts and hose clamps for any installation challenge.
Triple Bob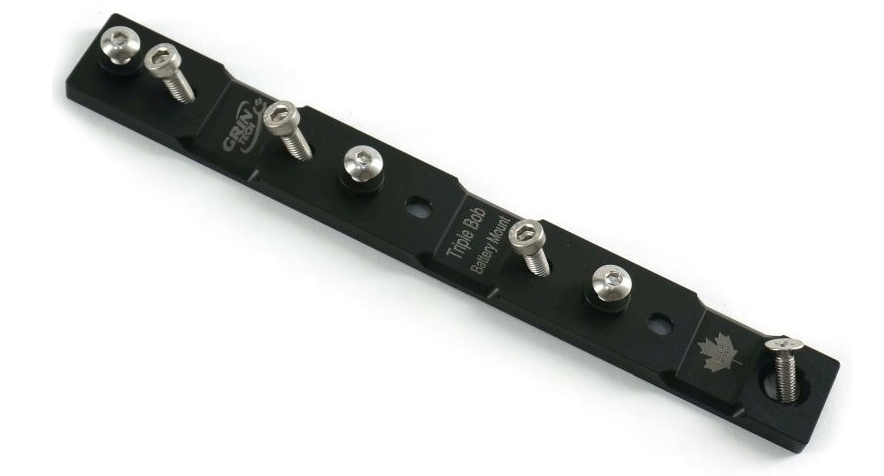 Our most popular battery rail has 3 raised bosses for attaching the battery cradle and is compatible with all Reention downtube batteries, Hailong-01 batteries, and other models with 3 slots in the mounting rail. These batteries are often called "shark" "Jumbo Shark" "Whale Shark" etc. by resellers but not with any consistency so best to look at the picture to compare. The Triple Bob can be secured with existing waterbottle bolts on your frame for a clean interface, or attached virtually anywhere with 2 or 3 hoseclamps through the recessed slots.
Double Bob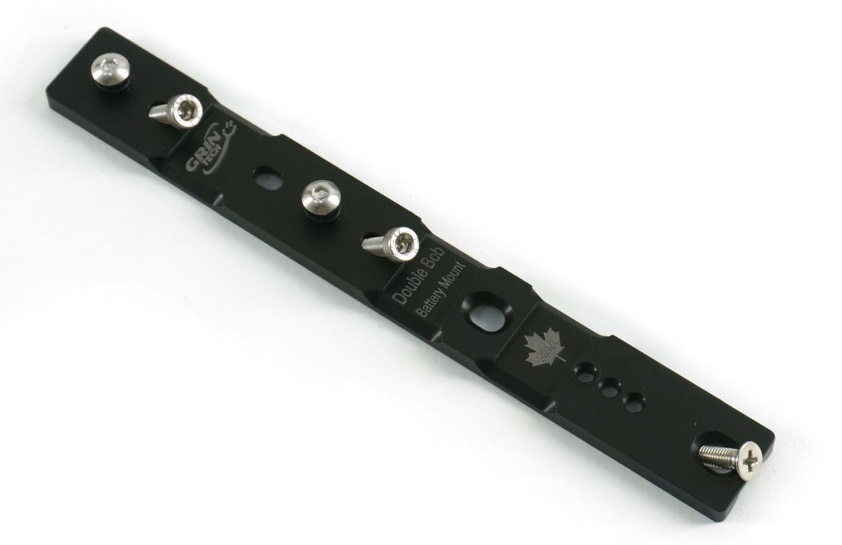 The Double Bob is a slight variant that has only two raised bosses on it. This makes it compatible with the larger Hailong-03 batteries that have only two mounts on them, and it should work on other models of battery that similarly have just 2 mounting bolts. Like the Triple Bob, you can either use existing eyelets or mount it anywhere with hose clamps.
Bottle Bob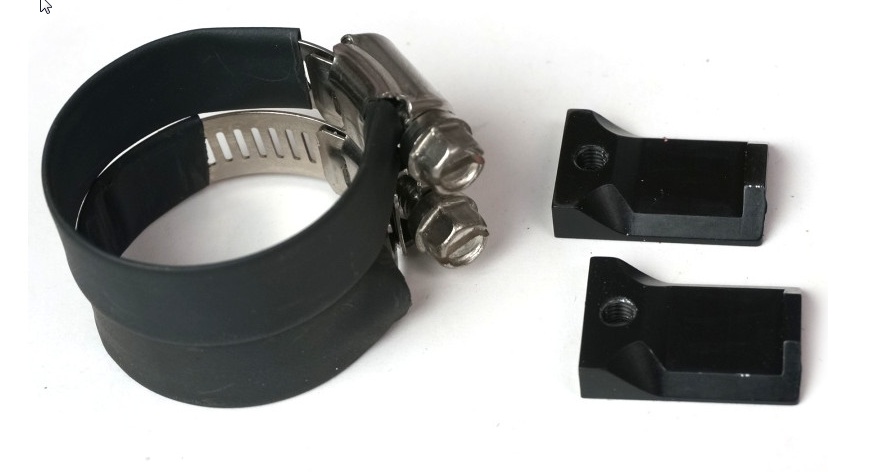 Our basic Bottle Bob provides just a single eyelet attached with a single hose clamp. These are not as convenient or secure as the longer double/triple bob products, but they are useful in cases where a more generalized mount is needed or an unusual spacing is required between mounting holes. We've also seen them used as general purpose eyelets for attaching water-bottles and other accessories. The Bottle Bob's come two in a package, along with all stainless hose-clamps.
Ezee Battery Anchor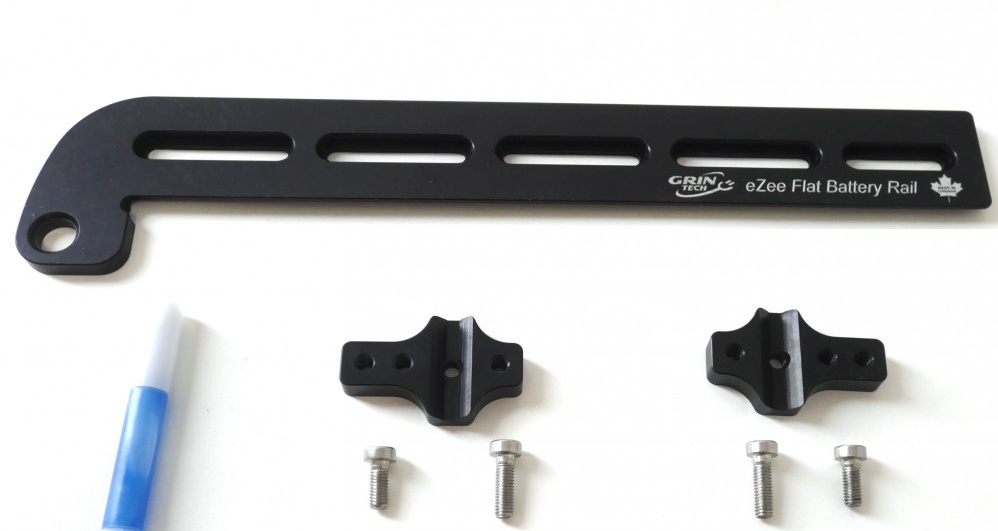 Our eZee flat battery packs have a rail on the bottom for sliding into the eZee double decker racks, which is a nice solution. However, for people who already have an existing rear rack, or who want to mount the batteries on their side or on other surfaces, we produce a sliding rail anchor that can readily clamp onto existing rack tubes to provide a secure mount.
Ezee Battery Twist Anchor (retired)
We originally developed a unique mounting option for the eZee flat packs that allowed them to twist into place rather than having to slide all the way from the end. This mechanism was developed to fit the eZee flat packs on the seatstays of the Xtracycle Edgerunner cargo ebike back when we were in active development on that project. One downside is that it only engaged about 1/3rd of the total rail plastic, and could bounce loose if not also secured with an additional strap that we provided. This model has since been discontinued.
Installation
Hose Clamps

We provide two hose clamp sizes to span ?? to ?? tube diameter, as well as a plastic shrink tube sleeve to cover the metal band and protect the paint from scratches. To use this product, first cut the shrink tubing to size and slide it over the band. In order to make it impossible to remove the hose-clamp when the battery is installed, be sure to have the hose clamp screw mechanism at the top so that it is inaccessible once the base plat is installed.

Existing Eyelets

It's also possible to mount the Double / Triple Bob's using the existing eyelets on the frame. We include two low profile M5 screws that can mount in one of 4 positions to place the Bob in a good location. This provides for a very clean installation, and is vastly more stable than mounting the battery itself directly to the they same eyelets. That's because our rail is machined with a contour that straddles the tubing to make wide points of contact rather than just the tiny area around the bolt.

Front or Rear Rack

Finally we also produce a "Rail Anchor Kit" that has specially machined clamping blocks to secure the batteries to existing racks. These clamps have a grooved slot that straddles the tube diameters commonly used in bike racks, and provide battery mounting options over your front and rear wheels as well.
Videos
Also Check out this Overview Video of the original eZee twist anchors, thanks to Gaston | Ypedal.com
Where to Buy
Our battery anchors are available in our online store for shipping anywhere in the world.
We also maintain stock of the Double Bob and Triple Bob at the Amazon USA warehouse for easier shipment to people in the United States.