Want to purchase a conversion kit from Grin but not sure where to start? This page is intended as a solid primer on the various options and should help narrow things down to the kit most suited to your needs.


Basic Kit Choice
Our most popular geared hub motor conversion systems are the Mini G310/G311 or slightly larger SX motors for those wanting a lighweight and silent setup, and the higher end GMAC kits for those wanting awesome hill climbing torque and regen. For direct drive hub motors that fit standard bike frames, both our front All-Axle hub and the more cost effective but heavier RH212 / FH212 have been equally popular.
In addition to these common options, we also have a number of specialized kits for niche applications; such as the SAW20 with 75mm axles folding bikes, the DD45 for high power 1 speed bikes, and the Grin All Axle for Single Side trike applications. The TDCM IGH kit is a unique direct drive motor with a 5-speed internal gear hub all in one package, while the G60 rear motor for fatbike conversions supports 170-195mm rear axles. For a detailed list on what motors would be compatible with your particular bike frame, have a read of our Bike Compatibility Guide. Here's a summary breakdown of the current packages that we've put together at Grin, from smallest to largest.
---
Crystalyte SAW20
Quick Specs
Motor Weight
3.2 kg
Typ. Power
250-500 W
Motor Type
Direct Drive
Wheel Sizes
16", 20"
Front Only
SAW20 Kit: This is a small direct drive hub motor designed for folding bikes with 75mm forks. It's larger in diameter and heavier than the small geared motors but maintains a more narrow profile. Comes laced 16" and 20" rims, allowing it to work with most 20" Dahon/TERN bikes along with the Tikit and Brompton.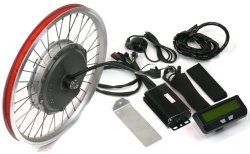 ---
Bafang Mini Geared G3 Series
Quick Specs
Motor Weight
2.55 kg
Typ. Power
250-500 W
Motor Type
Geared
Wheel Sizes

Unlaced, 16",20", 26", 700c
Front / Rear
Bafang G311 / G310 Geared Kit: These are a smallish geared motors that are well suited for people who want a more minimal level of assistance than the eZee hub. Being a geared kit, they freewheels when not in use, and being lightweight they have little effect on the characteristics of a bike. The G310 is a rear cassette motor and both it and the front use the nearly silent helical gears with high reduction ratios. Available both prelaced in Alex DM18 rims or as bare hubs. .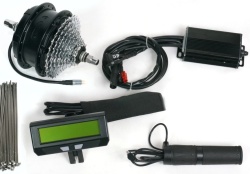 ---
Shengyi SX Series
Quick Specs
Motor Weight
3.0 kg
Typ. Power
250-500 W
Motor Type
Geared
Wheel Sizes

Unlaced,
Front / Rear
Shengyi SX Geared Kit: These are geared front and rear hub motors that are slightly larger and more powerful than the Bafang G31X series. They also feature a silent helical gear reduction but have a more robust motor contruction style making them better compatible with high speed operation that can cause magnets to come loose in the G31X hubs.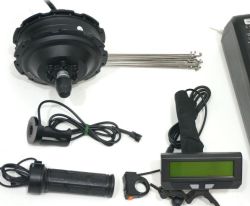 ---
G60 Fatbike
Quick Specs
Motor Weight
4.2 kg
Typ. Power
500-1000 W
Motor Type
Geared
Wheel Sizes
Unlaced
Rear Only
G60 Fatbike Kit: The Bafang G60 is a rear geared hub motor specifically engineered for fatbikes with extra wide rear dropouts. It uses a cassette freehub system and has a power and torque output that comes close to that of the eZee hub motors. This motor is available in two axle lenghts to support both 170-175 dropouts, or the longer 190-195mm dropouts used in even fatter fat bikes.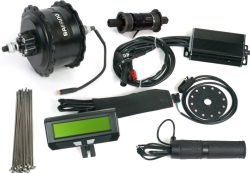 ---
eZee
Quick Specs
Motor Weight
3.8 kg
Typ. Power
600-1200 W
Motor Type
Geared
Wheel Sizes
20",26",700c
Front and Rear
eZee Kit: The eZee system is our popular high performance geared motor setup, and has about twice the power and torque capability of the Bafang G31X motor (500-1000 watts), making it better suited for steeper climbs and cargo hauling. The ~4kg motor is available in both front and rear options, and comes prelaced in 20", 26", and 700c wheels with a Schwalbe Marathon Plus tire too.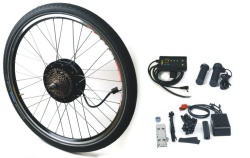 ---
GMAC
Quick Specs
| | |
| --- | --- |
| Motor Weight | 3.8 kg |
| Typ. Power | 600-1200 W |
| Motor Type | Geared |
| Wheel Sizes | Unlaced, Rear |
GMAC Kit: The GMAC motor is similar in performance and torque capability to the eZee motor, but it has a locked clutch instead of an internal freewheel making the motor capable of regenerative braking too. This motor is recommended in cases where regen is more important than freewheeling and the high power to weight ratio of a geared motor is desired. It is a higher end setup designed around the Phaserunner or Baserunner_L10 motor controllers. See the GMAC info page for more details.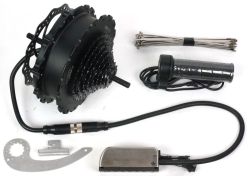 ---
Grin All Axle
Quick Specs
| | |
| --- | --- |
| Motor Weight | 4.0 kg |
| Typ. Power | 500-1000 W |
| Motor Type | Direct Drive |
| Wheel Sizes | Unlaced, Front |
Grin All Axle Kit: The All Axle hub motor is developed and manufactured by Grin at our Vancouver shop, and is the only front hub motor on the market compatible with thru-axle fork standards. It is over 2kg lighter than comparable power generic direct drive hub motors, and a wide selection of axle inserts provides compatibility with quick release, QR12, QR15, QR15 Boost, and QR20 axles, as well as a variety of single side installations and even 150x15mm front fatbike forks. This is an awesome and versatile front hub choice if it is within your budget. For more info see the All Axle hub page.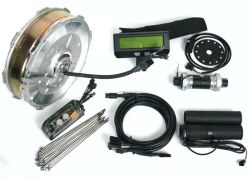 ---
TDCM IGH
Quick Specs
Hub Weight
6.5 kg
Typ. Power
500-1000 W
Motor Type
Direct Drive
Wheel Sizes
Unlaced
Rear Only
TDCM Internal Gear Hub Kit: The TDCM IGH hub features a direct drive motor with an internal 5 speed Sturmey Archer hub for the human transmission, so you get in one clean package a 5 speed gear hub and a powerful motor. It's a great option for people wanting to do conversions on single speed bikes without a derailleur. This motor is manufactured in Taiwan and the quality and build standards are excellent when compared to most chinese motors. It is also sealed and statorade compatible. Availability notice: As of 2021 the TDCM IGH motors are out of stock, and our re-order plans are currently in flux.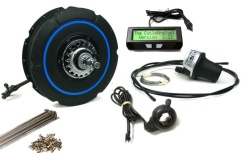 ---
Crystalyte H 35 Series
Quick Specs
| | |
| --- | --- |
| Motor Weight | 6.9 kg |
| Typ. Power | 600-1200 W |
| Motor Type | Direct Drive |
| Wheel Sizes | Unlaced Rear |
Crystalyte H Kit: The H35 series from Crystalyte had been our standard direct drive hub motor for many years because it had side cable exit, reasonably good disk brake compatibility and the 35mm wide stator and magnets gives it about 30% more torque than most inexpensive hubs with 24-27mm magnets. We've mostly replaced this motor with the cassette compatible RH212 model, but we still keep a customer rear thru-axle version of this motor for compatibilty with both 142x12 and 148x12 rear thru axle frames.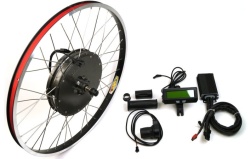 ---
FH212 / RH212 Kit
Quick Specs
Motor Weight
6.7 kg
Typ. Power
600-1200 W
Motor Type
Direct Drive
Wheel Sizes
Unlaced
Front and Rear
RH212 / FH212 Kits: We'd been bugging Nine Continent for many years to produce a rear kit that uses a cassette freehub system rather than a threaded freewheel, and which also had proper disk rotor fitment and caliper clearance with 135mm dropout compatibility. We finally got our wish in 2018 with the 212 mm motor series, which also has a deeper stator and higher pole count (52 rather than 46 magnets) than the standard 205mm direct drive hubs for higher torque output. These hube are Statorade compatible, have a built-in thermistor, and use the new L10 connector standard.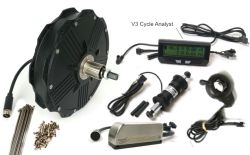 ---
XOFO DD45
Quick Specs
| | |
| --- | --- |
| Motor Weight | 8.5 kg |
| Typ. Power | 1000-3000 W |
| Motor Type | Direct Drive |
| Wheel Sizes | Unlaced |
DD45 Kit: The largest motor that we have on hand is generic DD45 motor from XOFO, which has a 45mm wide stator and is similar to many other motors from MXUS, Leafbikes etc. This hub only fits a single speed freewheel when used in 135mm dropouts making it ideal for many single speed chopper bike builds. It can also be used with 7 speed freewheels on bikes that can fit a 155mm dropout spacing. Availability notice: As of 2022 the DD45 motors are out of stock, and will likely be discontinued from Grin's catalogue.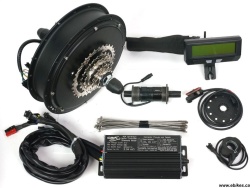 Benefits of a Hub Motor
Hub motors are the most versatile and easiest way of converting a bike or trike over to electric assist. Unlike mid-drive systems such as the Bafang BBSHD, they don't put any additional stress on your existing drivechain and operate with complete independence of your pedal transmission. If your chain breaks, derailleur snags, cogs gets loaded in snow etc. the hub motor will continue to propel the bike even when your legs can't. Please have a look at our Why Hub Motors article for a more detailed explanation on the benefits of hub motor systems, especially for commuter ebikes.
Broadly speaking, there are two classes of hub motors, geared and direct drive. And each of those motor types are available for either the front or the rear wheel.
Geared vs Direct Drive
In a geared hub, the motor spins internally at a high RPM and a planetary gear transmission reduces this to the low RPM of the bike wheel. This allows for a relatively small electric motor to provide substantial wheel torque. Geared hub motors usually weight between 2-4kg and are small in diameter, allowing them to remain pretty discrete on the bike. For a number of reasons, almost all geared motors also include a freewheeling clutch so that the wheel will spin freely and not turn the motor over if you are coasting.
In a direct drive hub motor, the hub IS the motor, so there is no internal gearing. The wheel RPM is the same as the motor RPM. This has enormous advantages in terms of simplicity with no moving parts inside, but in order to achieve adequate torque the direct drive motors need to be fairly large in diameter and heavy. They are typically between 4-9kg and over 20cm (8") diameter. Direct drive motors don't have a clutch, allowing them to do regenerative braking, but this also means that there is some motor drag while coasting as the magnets are always moving past the stator iron.
| | |
| --- | --- |
| Pros of Geared Motor | Pros of Direct Drive |
| ⦁ Discrete smaller diameter | ⦁ Better high speed efficiency |
| ⦁ Light Weight | ⦁ Regenerative braking |
| ⦁ Freewheeling | ⦁ Silent operation |
| ⦁ Better hill climbing efficiency | ⦁ No moving parts to fail |
In general, we find that geared motors are most often preferred by people who value their smaller size and weight, who require a hub with good efficiency during hill climbing, and for whom the ability to coast with zero drag outweighs the benefits of regenerative braking.
Direct drive hub motors generally shine most in applications where high speed is needed, where regenerative braking is useful, where complete silence is paramount, and where the additional motor weight is not seen as too problematic.
For geared motor kits we have the small Bafang G310 (rear) or G311 front, the slightly larger Shengyi SX1/SX2, and the very powerful eZee and GMAC. For direct drive motors we have the premium lightweight and fits-on-all-forks Grin All Axle front hub on one end, and the heavier by value priced FH212 and RH212 from 9C on the other, along with the Crystalyte UFO 'H' series for rear thru-axles frames, the unique TDCM IGH for bikes with internal gear hubs, and large and beefy rear DD45.for more moped-like systems.
Regenerative Braking?
Regenerative braking involves using the motor as a brake to assist in slowing the bike down without wearing your mechanical brakes. This typically results in a 3-8% increase in your range from recaptured energy and a massive reduction in the frequency with which you need to adjust and replace your brake pads. There is no downside or tradeoff whatsoever to having regen if you have a direct drive hub motor, and if you have a geared or mid-drive motor it's not an option so there's no point mulling over it.
All of our Grinfineon and Phaserunner controllers have variable regenerative braking with a V3 Cycle Analyst, allowing you to modulate the braking intensity with your throttle. Most standard Chinese controllers with regen will just have a fixed level of regen when the brakes are pressed.
Front vs Rear or Both?
The next big question for hub motor selection is whether to put the motor on the front or the rear of the bike. There is a TON of misinformation on the internet and endless-sphere in particular which says you should always choose a rear hub motor and that front hub motors are dangerous/unstable/ill advised. This is complete nonsense, and in fact for most conversions we recommend a front hub unless there is a compelling reason to put the motor on the rear. There is also generally no problem at all installing a hub motor on a bike with suspension forks, carbon forks or whatever. So long as you have a properly installed torque arm so that the axle rotation is not spreading the dropouts, the pulling forces that a motor puts on a fork are WAY smaller than the forces present when slamming on the front brakes or hitting a pothole.
The benefits of a front hub are as follows:
No conflict or change to your drivechain
Ability use internal gear hubs on the rear
Simpler installation
Better weight distribution if battery is on the rear
The main downside of a front hub relates to the fact that on most bicycles, a majority of the rider weight is on the rear wheel rather than the front wheel, so the amount of traction available on the front wheel is not as high and it can be possible for the wheel to skid out at full throttle. Riding on pavement this only becomes an issue at pretty high power levels (>1500 watts), but when climbing hills on loose gravel or dirt roads, you can end up with the front wheel skidding pretty easily even at fairly modest powers unless you deliberately lean over the handlebars.
Downsides to a Front Hub:
Limited traction for high power (>1500 watts) or loose gravel roads
Not entirely discrete, especially direct drive
For rear installations, the motor is more discretely buried with the cogs and pannier bags, and it is possible to run at very high power levels without losing traction. However, the motor must also tie into the mechanical drivechain.
Downsides to a Rear Hub:
No opportunity to use internal gear hubs (unless you get the TDCM IGH kit)
Drivechain compatibility concerns (freewheel vs freehub, 7,8,9,10,11 speeds)
From our perspective, the decision of front or rear motors is fairly easy. You'd generally choose a front hub for ease of installation and versatility, unless your vehicle design doesn't allow it (eg tadpole trike), or your ride situation would have traction issues (dirt road hill climbing or very high power), or you just figure that, justified or not, you want the motor on the back. There are fewer compatibility issues with rear hub motors now that we have more options using cassette freehubs and proper disk alignment, such as the G310 and MXUS kits.
Dual Hub Motors
Dual front/rear hub motors on a bike is an excellent way to achieve higher power levels than a single hub motor can produce, and is especially useful in cargo bike or load hauling applications. When you run two brushless motor systems on the bike, each motor requires its own motor controller (there is no way around this) but the throttle signal would typically be split to run both motors equally. For controllers running with our new WP8 Cycle Analyst plug, we have a very convenient dual controller splitter cable. For older controllers with the 6-pin CA plug, or generic controllers with no CA plug, you can run two motors with a V3 CA3-DPS device using the dual motor CA shunt, while for those without a CA we have a simpler dual controller throttle splitter cable for the same purpose.
Most often you would use matching motors for the front and rear, ex dual eZee motors, dual Crystalyte, dual 9C, and the power would always be split 50:50 between the two motors. However, there are cases where running different motors makes sense too. A popular one would be a rear eZee motor and a front direct drive like the Grin All Axle. The eZee motor would do much of the grunt of the work on steep hill climbs and the likes, while the direct drive motor provides regenerative braking and runs at good efficiency when riding on the flats.
Speed, Power and Range
In general, larger and heavier motors will be able to handle higher power levels for longer time periods before overheating. See our motor power info page for more details.
The speed that you'll have with a given motor depends on the motor winding option, wheel diameter, and battery voltage, it is not an intrinsic property of the motor. You can increase the speed by either increasing your battery voltage (say running 48V instead of 36V), or choosing a higher RPM motor winding (like the eZee 350rpm model rather than 250rpm model) and keeping the voltage the same. All of our hub motors can be configured to spin as fast or as slow as you like. but to move a bike quickly requires a lot of power, especially going uphill, and this will limit the ability of small motors to make you move fast. At the bottom of each kit page there is a preview line showing the unloaded speed and off-the-line thrust for your particular motor choice, wheel diameter, and motor controller which you can use as a guideline.

Please understand that the unloaded speed is NOT the speed at which you will travel, that is the speed that the motor will spin when it is lifted off the ground, you'll need to use our Hub Motor Simulator to get the exact behavior for your setup with different rider weights, hill grades etc:
The range of an ebike has almost nothing to do with your motor selection and almost everything to do with the size of your battery pack and how heavily you rely on the electric assist. This is discussed in detail on our battery kits info page.
Controller Selection
Most of our bundled conversion kits come with a suitable field-oriented controller. For the Ready-To-Roll setups this is a Baserunner that fits inside the cradle of a downtube battery. The DIY and High Voltage kits have options for the higher power Phaserunner or Frankenrunner controllers as well which can be mounted externally. Previously we also offered a line of more generic Grinfineon controllers as a low-cost option, but have discontinued carrying these due to availability and reliability challenges.

Ready-to-Roll or DIY?
All of our hub motor models are available a "Ready-to-Roll" package, while many also have options for "Minimal", "DIY", or "High Voltage"
Minimal Kit
Use this kit selection for a basic throttle-only system setup that does not include a Cycle Analyst display or any PAS/Torque sensors.
DIY / High Voltage Kit
The DIY kits are intended for setups that are using 3rd party battery packs sourced elsewhere. These systems provide controller options for the Phaserunner or Frankenrunner controller models rather than the baserunners, as those controllers better lend themselves to mounting to a bicycle tube and are compatible with higher voltages.
Ready-to-Roll
Most ebike builders will want the full RTR package that includes a downtube battery pack, a modern baserunner motor controller, and uses our new CA3-WP device with a handlebar-mounted on/off switch with options for PAS and Torque sensors.
A throttle is the most obvious means of controlling the power on an ebike. You either push a lever or twist a grip, and the more you twist it the more power you have from the motor. It's simple and works great, but after a while you can find yourself suffering a bit of throttle fatigue especially, on longer trips.

We have thumb throttles, twist throttles, and half twist throttles. Usually people with twist grip shifters will opt for a thumb throttle, while those with lever shifters could choose between a thumb style or a twist grip. The half twist throttle is safer than the full twist since you are less likely to accidentally turn the throttle while grabbing or walking the bike, but there are some who really like the feel the full grip rotating like on a motorcycle.
With a basic pedal sensor (PAS), the electronics are configured to automatically power the motor when it detects that you are pedaling. Once you stop pedaling, the motor assistance stops. The amount of power assist is configured via the V3 Cycle Analyst, and there are various options (pot, 3 position switch, digital aux) that let you easily increase or decrease the PAS assistance while riding. But the assistance does not change with your pedal effort, as the sensor only knows how fast you are turning the cranks, not how much force you are applying.

With a torque sensor pedal assistance, there is sensor measuring how much force the rider is putting on the pedals. That allows you the rider to control the ebike motor with your legs; the harder you pedal the more power you get from the hub. This kind of control can feel very slick and helps encourage more human power input, since you are made to 'earn' your motor power. The most common torque sensors (Sempu, TDCM, NTCE) replace your bottom bracket with one that has a built-in sensor module, and while a bit complicated to install the end result is very slick. For more information on PAS sensors and Torque sensors, see our guide to Advanced PAS Kits and our more general Learning Page on Pedal Assist Systems.
All of our controllers will accept just a simple throttle input without any kind of display. But to use a PAS or Torque sensor, you need a V3 Cycle Analyst, which acts as the interface between the various sensor signals and the motor controller, and you should choose the "advanced PAS" kit option to see these. Even if you have a PAS or Torque sensor, we still recommend having a throttle installed on the bike too since there are times when it can be quite handy to have that as a backup means to power the motor.
Ebrake Cutoffs?

An ebrake is a switch built into your brake levers which sends a signal to your motor controller or V3 Cycle Analyst in order to automatically cut power when you are braking. While it is sometimes touted as an important safety feature, in practice we don't think these are generally necessary for that reason. The mechanical brakes on a bike can easily overpower a motor if for some reason you were to throttle and brake at the same time. However, if you have a PAS assist system then a brake cutoff can be handy to momentarily removing the automatic assistance while you are pedaling. Where ebrake levers really shine is in setups that have a direct drive hub motor with regenerative braking. In these cases, we recommend installing the brake cutoff on the opposite lever as your throttle, so that it is easy to use one hand to enable regen and the other to modulate it with the throttle.
For standard mechanical brake systems, we have the inexpensive Wuxing and Tektro complete ebrake levers available. If you have hydraulic brakes and/or want to preserve your existing brake levers rather than replace them, then the universal tripwire cutoff sensor that can be attached to the brakes you've already got installed.
Torque Arms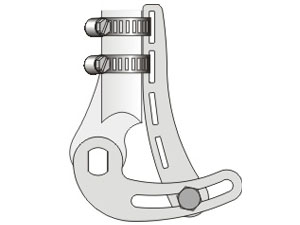 We give the option to select a torque arm with most of the hub motor kits. Our best motors like the GMAC and Grin All Axle hub have an integrated torque arm that is part of the axle design, while the more generic motors require after-market torque arms if there are concerns about axle spinout.
For information on whether you need a torque arm in your setup and how to select the best model, see our torque arms info page.
Tidy Wiring Kit
You can make your DIY ebike conversion look as slick and clean as a commercial ebike by simply paying close attention to your cable routing and using the velcro sleeves, spiral wrap, and zip ties included in our tidy wiring package. Homemade ebikes have something of a reputation for being a rats nest of wires and exposed connectors but there is no need for this.
Temperature Sensors and Statorade
One of the benefits of getting a conversion kit from Grin is that we have pioneered the inclusion of motor temperature sensors across virtually all our hub motors, and Statorade compatibility for most of the direct-drive motors. This allows for you to push the envelope of sustained power and torque output from a given motor without risk of damaging the hub. The Statorade allow for heat in the motor to escape more easily, increasing by about 30-50% the continuous torque capability, and the temperature sensor allows the system to automatically scale back power before the motor gets hot enough to be damaged.
These features are not required for people using the hub motors within their nominal power range, but for those who like to push the envelope a bit they are golden. The temperature sensor is automatically linked up from the hub motor to the CA3-WP device with our new motor and CA connector standards.
Legal Compliance
Any setup that includes a Cycle Analyst can be configured via the Cycle Analyst to have custom speed limits and power limits in order to be compliant with the various electric bicycle regulations in different parts of the world. So it is perfectly possible to run a fast and powerful offroad ebike, and then have it throttled to say 250 watts and 24kph to meet the European electric bike limits when riding on road. But it is up to you as the person building and assembling the ebike to configure this. As supplied there is no intrinsic limiting enabled.