Page Last Modified On: November 24, 2023

The SX1 and SX2 are medium-sized front and rear geared motors from Shengyi that we stock as a 'slightly bigger brother' to the Bafang G310/G311 motors. These also have helical cut gears for silent operation, but they run an outrunner motor with a single stage planetary gear reduction rather than an inrunner with doublestage planets. This makes them a bit larger and heavier than the G31X hubs, providing higher torque output before overheating and more robustness at fast RPM's without risk of magnet adhesive failure.
Key Features
Totally Silent Drive: The helical cut gear system of the SX1 and SX2 motors has the same "smooth as silk" feeling that you've gotten used to with the Bafang G3XX series or any direct drive hub motor.
Freewheeling: The SX motors currently in stock at Grin have a built in clutch so that they freewheel with no drag when unpowered, making them well suited for people who expect to ride frequently without any assistance.
End Cable Exit with Axle Flats: Although we prefer side cable exits when possible, at least the small diameter Z910 connector allows torque arms and axle hardware to slide over the cable side axle. The conventional M12 axle with 10mm flats allows the motor to be compatible with our standard lineup of front and rear torque arms.
Easy Disassembly: The Shengyi motors come apart easily for service using T20 torx bits, and features an O ring seal on the side plate joint for consistent waterproofing.
Medium Power Levels: This motor is ideal when you need a lightweight geared motor for somewhat higher power or speed levels than the Bafang G31X's, but don't need to go as far as the more expensive eZee or GMAC motors.
Combined Speed and Temperature Sensor: These motors were custom made with a combined speed + thermistor signal on the white wire of the Z910 motor cable. When paired with our Baserunner_Z9 controllers and a CA3-WP device this gives both bicycle speed readings and motor temperature readout with no extra wiring. The built-in temperature sensing means you never have to worry about overheating the motor on long hill climbs, it can automatically rollback power to stay in a safe zone.
Disk Compatibility: Both the SX1 (front) and SX2 (rear) motors have space for a 6 bolt disk rotor with correct rotor alignment on standard bike frames.
Cassette Freehub: The SX2 motor uses a Shimano compatible cassette freehub body , allowing it to run on modern bicycle drivetrains with 9, 10, and even 11 speed Shimano mountain bike cassettes. (Note that 11 speed Shimano road cassettes are not compatible as they require a longer freehub body).
Power Level and Winding Options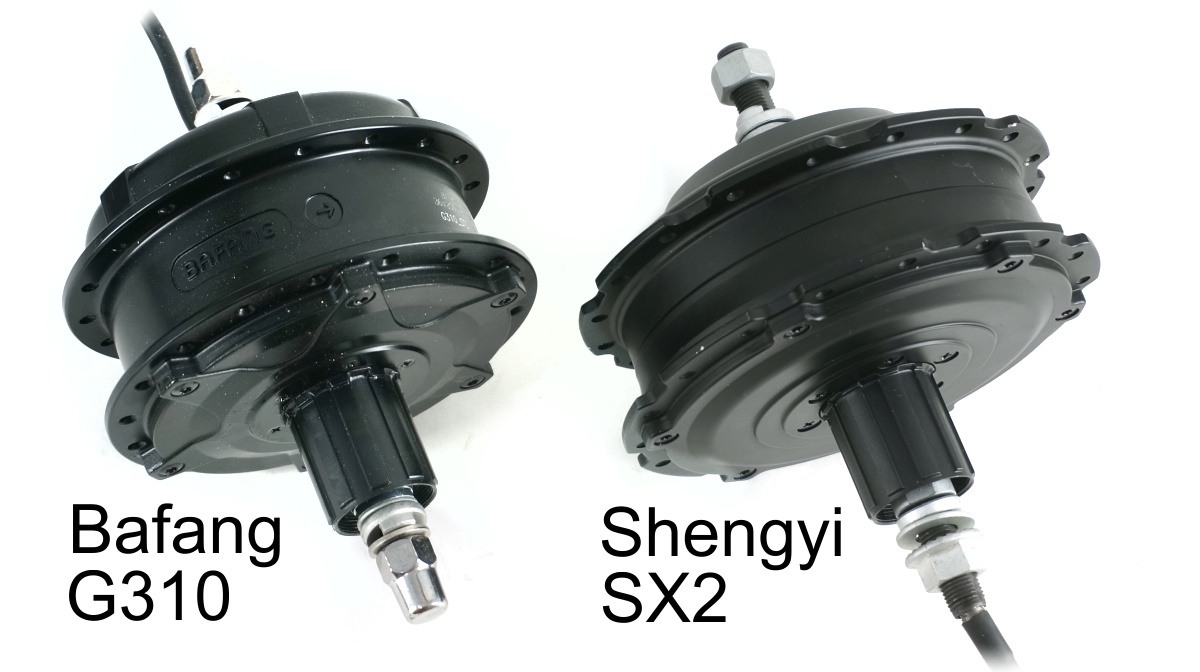 We put these motors in the nominal 250-500 watt power class, but because they have a built-in thermistor and feature a robust outrunner motor design it is possible to run them safely at higher power levels and have the system rollback before the inside gets hot. We have not yet completed thermal testing in the wind tunnel in order to accurately predict the overheat time frames at different output torque levels, but you can assume that it somewhere in between the G31x and the really high-torque GMAC.
We stock the motors in 2 different winding options, a fast wind (6T, 9.8 rpm/V) intended for 20" wheels, and a standard wind (8T, 7.4 rpm/V) that is commonly used 26"/700c builds. With this combination of winding choice and wheel diameter, you will achieve cruising speeds of 30-35 kph with 36V battery packs and 40-45 kph with 48V/52V packs. For exact performance details with any combination of wheel size, battery voltage, and motor winding please have a look at our motor simulator page (Simulate Standard Wind, Simulate ast wind)
Bicycle Fitment, Axle Hardware, and Torque Arms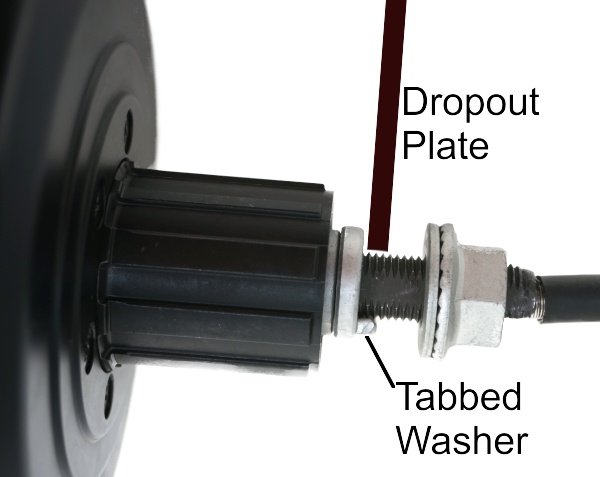 These motors have a natural fit for standard quick release bicycle frames that have 100mm front fork spacing or 135mm rear spacing. The front axle is exactly 100mm long while the rear is 136.5mm so no frame spreading is required, and the smallish diameter and narrow motor construction means that there are few fitment issues with the the rear stays or fork blades. The axle itself is the common M12 x 1.25 with 10mm flats, and it may be necessary to file open the dropout slot to the full 10mm width if it is too narrow.
Both the front and rear motors have internal tabbed washers on the axle shoulder which must be located on the axle inside the dropout for correct axle length and disk / cassette alignment. The tab faces outwards and into the dropout slot to provide additional anti-rotation strength. This solution is adequate on bicycles with strong chromoloy dropouts, but for alloy or thinner steel dropouts we always recommend a torque arm as well. Our standard V2 and V3 torque arms are recommended with the front SX1 motor, while the V4 torque arm is usually the best choice for the rear SX2 hub.
Internal Construction
The SX1 and SX2 motors have a 15 pole pair outrunner motor driving a single stage planetary gear with a 4.8:1 reduction to the hub shell. The spur gears have a helical cut on them for minimal noise and vibration. Unlike most other helical motors that use thrust bearings for the axial forces caused by spiral gears, the SX hubs use double deep-groove ball bearings instead. This means in principle it will be possible to have a locked clutch version of the SX motor that is capable of regenerative braking and reverse mode like we have done with the GMAC motor.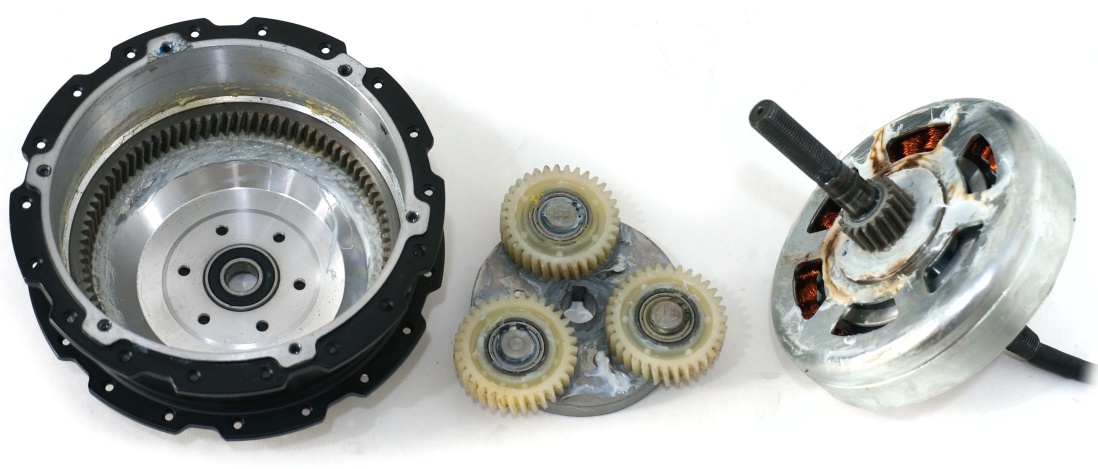 Wiring and Connector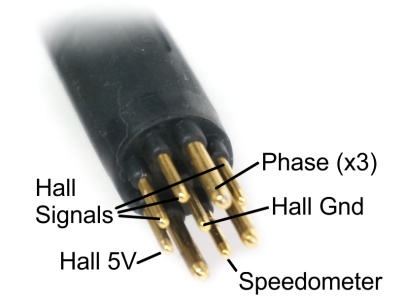 These motor cable exits the end of the axle and extends 22cm to an overmolded Z910 connector terminal. While we prefer side cable exits, at least with the Z910 connector it is no problem to fit torque arms and axle hardware over the connector and cable and onto the axle. The exact hall mapping used by Shengyi is not the same as Bafang motors and so a controller that works with Bafang may not be plug-and-play with our SX1/SX2 hubs. We supply this motor as a kit either a Baserunner (recommended) or Phaserunner controller which has programmable hall mapping so this is not an issue, but we cannot guarantee compatibility with any 3rd party motor controllers.
The extra white signal wire is used for the combined hall and speedometer. The signal has a 10K Beta 3450 thermistor wired in parallel with a speedo pulse that toggles to 0V 6 times per revolution. The Baserunner_Z9 controllers automatically split this combined signal into separate speed and temperature lines to the CA3-WP device.
Disk Brake Compatibility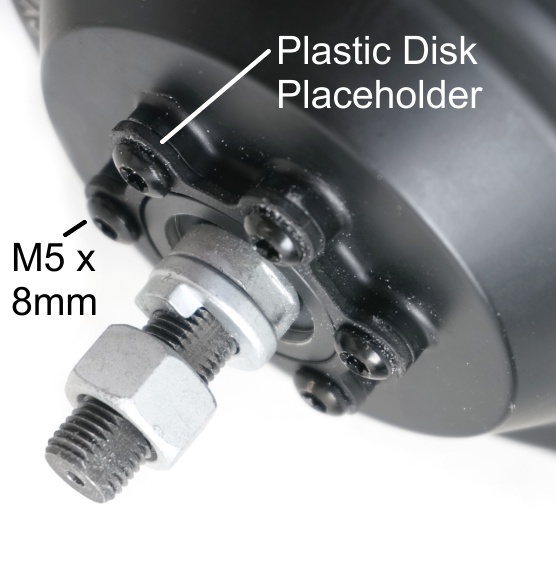 Both the SX2 and SX2 motors have the mounting holes for a 6-bolt ISO disk rotor with nearly correct offset for rotor alignment as long as the tabbed washer is included inside the dropout. The hubs are all shipped with a plastic spacer in place of a disk rotor so that the disk bolts can stay in place and at the correct depth. If you are installing a disk rotor, simply remove the plastic spacer and replace it with your ISO disk rotor, reusing the M5 bolts that came with the hub. If you are using other disk bolts be sure that they are no longer than 10mm. Bolts that are too long risk protruding inside the motor shell and scraping against the clutch.
Technical Specifications
Standard (8T)
Fast (6T)
kV
7.4 rpm/V
9.8 rpm/V
Phase to Phase Resistance
119 mΩ
72 mΩ
Phase to Phase Inducatance
180 uH
115 uH
Hysteresis Torque
0.44 Nm
Eddie Current Torque
0.009 Nm/(Rad/sec)
Spoke Flange Diameter
141 mm
Flange Spacing
38 mm
Axle Length
100 mm (front) / 136.5mm (rear)
Motor Magnetic Pole Pairs
15 Pole Pair, Outrunner
Gear Ratio
4.78 : 1 (86T ring, 18T sun)
Effective Pole Pairs (for Baserunner)
72
Output Cable
Z910 Connector, 22cm cable length
Thermistor
10K NTC, 3450 Beta. Parallel with speed signal
Motor Weight
2.95 kg (front) 3.18 kg (rear)
Videos
Where to Order