Page Last Modified On: October 27, 2023

The Grin All-Axle Hub Motor
The Grin All-Axle hub is a direct-drive motor series we designed to be universally compatible with all the varieties of quick release and thru-axle mounting standards that exist in the bike world these days. It solves the compatibility problem between hub motors and modern bicycle frames, it provides the benefits of direct drive without the traditional heft, and simplifies the installation with integrated torque arms.
Features
The All Axle motor has the following characteristics:
4.0 kg motor weight (vs >6kg for comparable generic DD motor)
0.35mm Laminations for low motor drag when pedaling unassisted
Integrated Torque Arm with secure fork mounting clamp
Fits All Front Fork Standards (regular quick release, QR12x100, QR15x100, QR15x110 Boost, QR15x150 Fatbike, QR20x110
Fits Most Rear Fork Standards (135mm quick release, 12x142 Thru Axle, 12x148 Boost Thru Axle)
Compatible with Single Side Installation on many trike and quad vehicles
Uses 32 Spoke Holes for vastly more in stock rim options
18mm Disk Caliper Clearance fits most (but not all) calipers without spacers
Statorade Compatible with side cover injection port
Available in both metallic silver and black anodized finish
Designed and Assembled in Canada
Rear Freehub and PAS
The Rear All-Axle motor uses a Shimano HG compatible mountain freehub allowing for easy use with 8, 9, 10, and 11 speed mountain cassettes. Inside the freehub body we've also secured a 12 pole quadrature PAS encoder ring for pedal assist applications. This sensor provides almost immediate engagement of pedal assist and permits back-pedal regenerative braking, all without having to add a separate crank sensor. The PAS feature is brought out through a 6 pin HiGo connector, and we include a long HiGo->5 pin JST extension cable to plug in directly to a V3 Cycle Analyst.
Do note that since the PAS sensor is on the rear cassette and not the cranks, the Cycle Analyst will be showing wheel RPM rather than cadence on the human power screen.
Front Axle Adapters
The stock front Grin motor axle is 95mm long with a 20mm hollow center, and then uses a series of axle inserts and end caps to accommodate different installation geometries
| | |
| --- | --- |
| Quick Release | These inserts allow the motor to fit in standard front forks with slotted dropouts using a regular quick release skewer to hold the motor in place. The vast majority of older bikes and new low to mid-range bikes will use this adapter |
| QR12 | The 12 mm thru-axle is a relatively new standard for road bikes to gain the stiffness and security benefits of a thru-axle wheel at a lower weight than the 15 and 20mm sizes common in mountain bikes. These hubs have the standard 100mm dropout spacing. |
| QR15 | The 15mm front thru-axle was introduced for cross-country and mountain bikes when the original 20mm thru-axle standard of downhill bikes was seen as overkill. The regular 15mm thru-axle uses the same 100mm hub spacing and disk rotor placement as regular quick release hubs |
| QR15x110 Boost | These adapters are similar to the standard QR15 except that the right side insert protrudes an extra 10mm, making the overall hub 110mm wide instead of 100mm for wider flange spacing. |
| QR15x150 Fatbike | This is a new standard with a 150mm spacing between the fork to accommodate the wide 4"-5.5" tires seen on many fatbikes these days. The Grin Motor inserts for the 15x150mm fatbike screw onto both the left and right sides of the axle to provide extra length, while a spacer on the disk mount repositions the rotor to the correct location |
| QR20 | This is the original thru-axle fork standard created for downhill mountain bikes and popularized in the early 2000's. It is still in common use on large travel suspension forks for serious off-road machines, but has been mostly replaced by QR15 size in regular mountain bikes. These Axle Adapters space both the left and right sides equally to build up the extra 10mm length. To fit the "20mm Boost" forks, a simple 5mm spacer is mounted under the disk rotor to position it closer to the fork. |
Rear Hub Adapters
| | |
| --- | --- |
| 135 Quick Release | These inserts allow the motor to fit in standard slotted rear dropout with a 135mm quick release skewer. The actual motor OLD is about 138mm. |
| 12 x 142 Thru Axle | With these adapters, the rear hub will fit in a thru axle frame with the 142mm dropout spacing. |
| 12x148 Boost Thru Axle | A slightly wider 'Boost' standard was created in the bike industry in order to provide greater stiffness and room for wider cassettes. The boost adapter has a longer length on the disk side of the hub and requires a 3mm spacer under the disk rotor for proper alignment. |

With all of these adapters, a separate torque arm is installed on the right side of the motor axle. A mating frame clamp secures to the fork blade with a pair of hose clamps and the two parts or locked together with an M5 bolt. When the motor needs to be removed, this bolt is loosened and then the arm can slide freely downwards as the wheel is taken off.
Motor Speed
The Grin All-Axle Motor is currently produced with three different windings; a slow 8 turn stator, a standard 6 turn stator, and a fast 5 turn stator. All three motor winds are capable of producing exactly the same torque and power outputs so the recommended motor model depends on youre desired vehicle speed. The faster wind motors are more appropriate for small wheel diameters and/or lower battery voltages, while the slower motor winds are more common with larger wheel sizes and higher battery voltages.
The following table shows the unloaded speed of each motor winding at common battery voltages in 20" 26", and 29" (700c) wheel sizes.
Slow 8T Wind (7.5 rpm/V)
Standard 6T Wind (10 rpm/V)
Fast 5T Wind (12 rpm/V)
20" Wheel
26" Wheel
29" Wheel
20" Wheel
26" Wheel
29" Wheel
20" Wheel
26" Wheel
29" Wheel
36V Battery
26 kph
34 kph
37 kph
34 kph
45 kph
50 kph
41 kph
54 kph
60 kph
48V Battery
34 kph
45 kph
50 kph
46 kph
60 kph
67 kph
55 kph
72 kph
80 kph
52V Battery
37 kph
49 kph
54 kph
50 kph
65 kph
72 kph
60 kph
78 kph
87 kph
72V Battery
52 kph
67 kph
75 kph
69 kph
90 kph
100 kph
83 kph
108 kph
120 kph
The top speed under any kind of load is going to be less than this value, and we recommend using our motor simulator for exact performance details of any given combination of motor, battery voltage, and controller model.
Motor Power
The Grin motor uses a 27mm wide 205mm diameter stator and has similar continuous power and torque capabilities as other direct drive hub motors with this size. However being optimally designed for weight reduction it has less metal mass to absorb heat. Under heavy loads the core temperature will rise at a faster rate than you would see on an otherwise identical but heavier hub, and for those reasons we recommend Statorade in the motor when used in more demanding applications.
The table below shows both the continuous and 5 -minute power capability of the motor at various RPMs with and without Statorde motor coolant.
Output Power Capability of All Axle Hub Motor to 110oC Core Temp
Wheel Speed
Without Statorade
With Statorade
Continuous
5 Minute
Continuous
5 Minute
100 RPM
250 W
500 W
340 W
575 W
200 RPM
560 W
1040 W
785 W
1235 W
300 RPM
900 W
1590 W
1275 W
1830 W
400 RPM
1250 W
2110 W
1840 W
2420 W
For a more detailed understanding we recommend using our motor simulator or trip simulator applications to properly predict the capability of this motor in any specific usage scenario.
Single Side Applications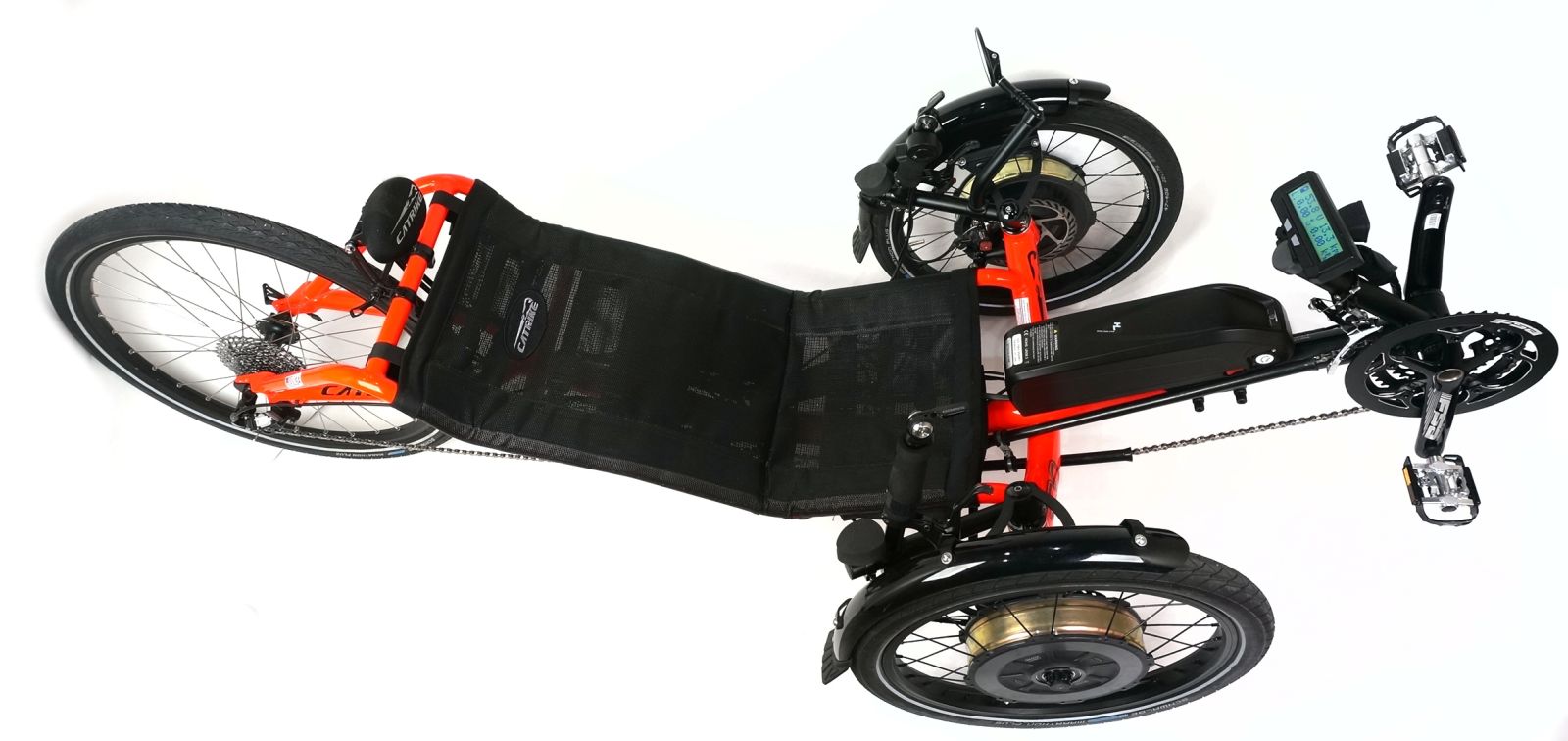 A unique feature of the front All-Axle hub design is its ability to work in applications requiring a single side mount. This allows the side wheels of trikes and quads to be readily electrified for the first time, and is especially popular with tadpole trikes running an internal gear hub rear wheel.
Unlike front bicycle forks where there are industry standards (admittedly a lot of standards, but standards at least), the wheel mounting strategy on trikes is all over the map, and unique adapters are required for most vehicle models. We've taken the approach of using the disk caliper mount as an anchor point to hold the wheel and lock the axle against rotation.
| | |
| --- | --- |
| Catrike | The popular catrikes are ideal for the Grin Hub motor because they already use a 20mm spindle, and they adopt the rear ISO2000 disk caliper mounting standard for both the left and right wheels. For these vehicles we produce a single piece adapter that works on both sides |
| Terratrike | The terratrike rovers also have a 20mm spindle, but they use a front ISO disk mount and the shaft has a shoulder that prevents the hub from sliding on as far as would be ideal. We accomodate the terratrike axles with a two piece torque arm that provides the necessary spacing for where the motor fits in place. |
| Icetrike | This adapter bolts onto a custom machined All Axle Hub Motor to allow for single side mounting to the spindle of certain Icetrike tricycles. The two-piece adapter secures the motor axle to the trike frame via the disk caliper mounting holes. This adapter does NOT include a shim to go from the 12mm icetrike spindle to the 20mm ID of the All Axle motor. |
| Greenspeed | The Greenspeed trikes use a smaller 12mm diameter spindle and have a disk caliper location that is further away from the hub center than the ISO standards. We have a similar 2 piece arm that can be flipped 180 degrees for working on either side. This also requires a shim to step from the 12mm spindle to the 20mm ID of our hub. |
| DIY | The splined arm used on our Terratrike and Greenspeed adapters is available by itself for doing DIY mounts on other vehicle types. The two bolt holes allow you to interface with a separate flat plate of metal that can attach under the disk caliper or other frame location on the frame to lock the axle from spinning. |
One Side or Both?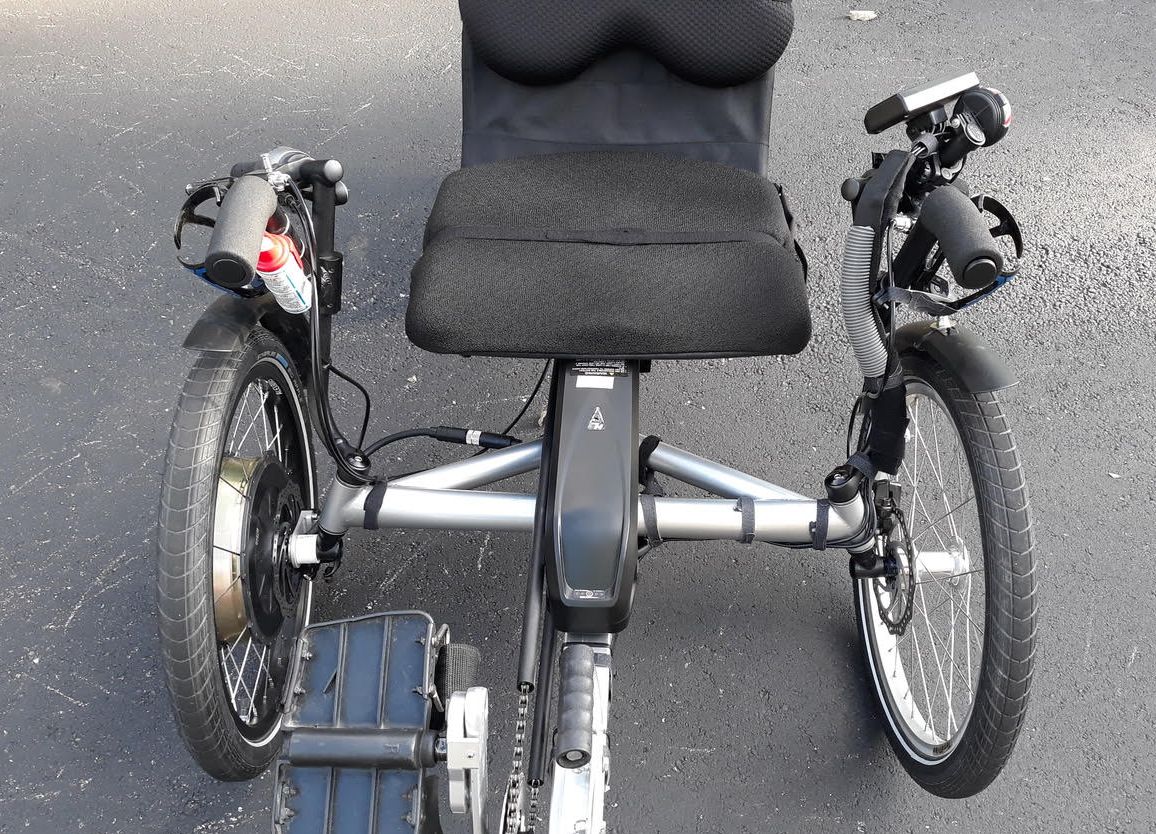 A trike with dual Grin hub motors can be insanely powerful and will be able to rocket up the steepest hills with amazing efficiency, but it is also quite expensive to do a full conversion with two specialized motors and motor controllers. You can also run a tadpole or delta trike with just a single side wheel motor and leave your original wheel on the other side. In general this does not result in any lopsided steering or handling issues and allows for a ligher weight and more economical conversion.
Wheel Lacing
Unlike most hub motors, the All-Axle uses 32 spoke holes rather than 36 spoke holes in order to fit the much larger availability of 32 hole rims. The spoke holes are paired sufficiently close that there is NO NEED to have the spokes cross over. With a radial lacing the spokes have an effective angle that is the same as a regular hub with a triple cross. That said, you are free to do a single cross lacing if you prefer the look.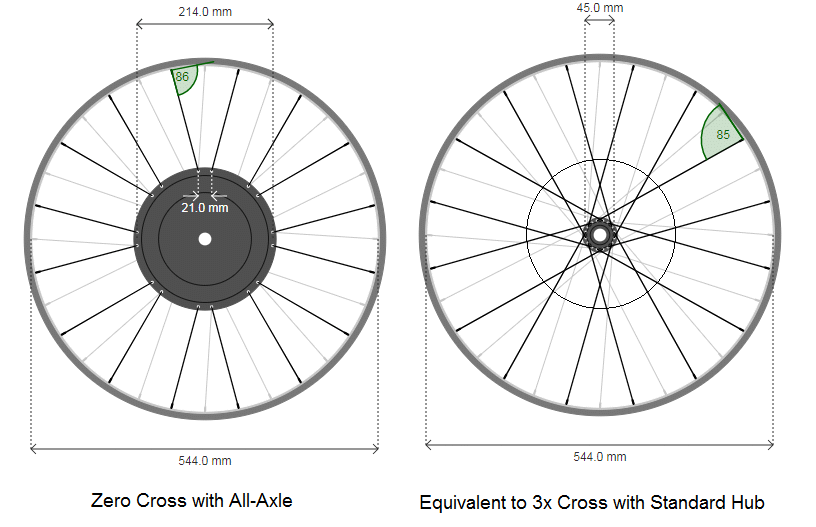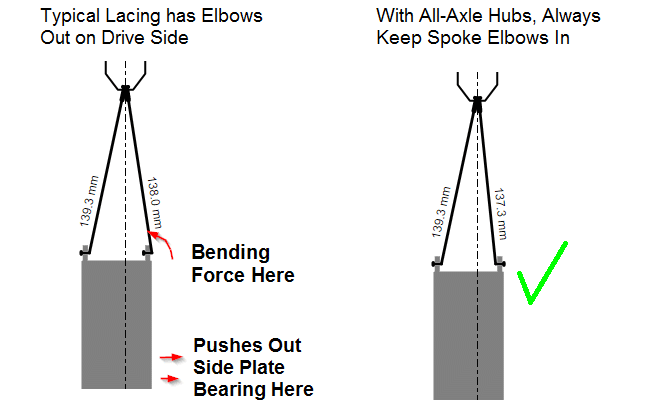 One not-so-obvious detail is that the spoke flange of the All-axle motor is designed for the spokes to be laced with the elbows in and the head facing outwards. The flange has a couterbore for the spoke head on the outside, and is wide enough apart (49mm, vs 25mm for typical motors) that there is sufficient triangulation with all spokes elbows in. If the wheel is laced with the spoke elbow facing outwards, it results in a bending force on the flange that pushes the entire center of the side plate outwards by 1-2mm. This can result in the motor axle developing play to slide left and right.
Differences between V1 and V2
The original V1 All Axle hub motor was in limited production from 2013 until early 2019 and used a large 45mm ID thin section bearing on the side covers. This allowed for a generous amount of room for the heavy gauge phase wires to pass through the axle, but the thin section ball bearings could have short lifespans in setups with frequent exposure to the elements.
In the spring of 2019 we released an updated V2 Grin motor design based on feedback and experience. This updated model has the motor cable exiting on the disk side of the motor rather than the non-disk side to facilitate single side installations, and it uses a wider 35mm ID ball bearing standard with a custom tooled lip seal to prevent ingress and egress. These changes increased the overall motor weight a small amount, but the improved robustness and versatility was worth it.
Differences between V1 (2013-2019) and V2 (2019+) Grin Hubs

| | | |
| --- | --- | --- |
| Property | V1 | V2 |
| Main Bearing | 45x58x7 (6809) | 35x55x10 (6907) |
| Bearing Seal | Standard Dust Seal | Double Lip Seal |
| Cable Exit | Non-Disk Side | Disk Side |
| Torque Arm | Non-Disk Side | Non-Disk Side |
| Connector | Anderson +JST SM | HiGo L1019 |
| Side Plate Seal | Sillicone Sealant | O-Rings |
| Statorade Compatibility | So-so (can leak through bearings) | Excellent |
| Weight | 3.95 kg | 4.05 kg |
| Magnets | N35UH | N40UH |
In addition to the mechanical changes we also updated from N35 to N40 grade magnets. Stronger magnets allow the motor to produce more torque for hill climbing with less heat loss, but they also increase the drag of the motor when riding without power. In our original design we erred on having lower rolling drag because at the time we felt this was more important than efficiency on hill climbs, but the Virtual Electronic Freewheeling feature in the Phaserunner/Baserunner controllers has shifted the balance and we switched to a higher strength magnet.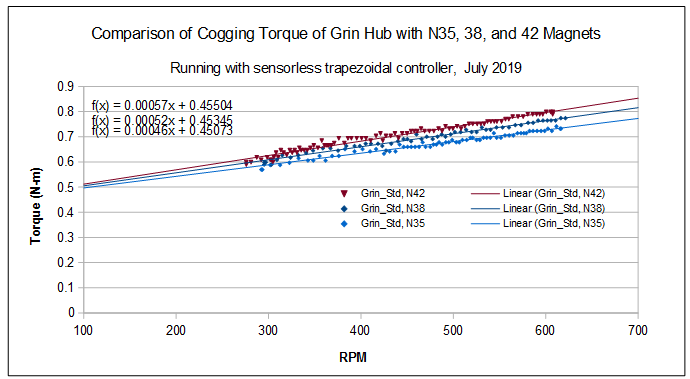 As a result the V2 motors spin about 5% slower than the V1 models. They have about 10% more drag torque but they can also climb hills with 10% less heat generation.
Technical Specifications
Slow (8T)
Standard (6T)
Fast (5T)
kV
7.5 rpm/V
10.0 rpm/V
12.0 rpm/V
Phase to Phase Resistance
268 mΩ
145 mΩ
100 mΩ
Phase to Phase Inductance
680 uH
380 uH
260 uH
Hysteresis Drag Torque
0.45 Nm
Eddie Current Drag Torque
0.0005 Nm/rpm
Spoke Flange Diameter
214 mm
Flange Spacing
49 mm
Magnetic Pole Pairs
23
Motor Weight
4.05 kg (8.9 lb) Front / 4.30 kg (9.4 lb) Rear
Videos
Background
The All-Axle motor has been a long development project for Grin to produce a direct drive hub motor that was lightweight and compatible with all Thru Axle and quick release fork standards. The idea first took roots in 2010 when we were impressed with the performance of large diameter direct drive hub motors being imported from china, but increasingly frustrated with the poor mechanical tolerances and bike fitment. While prototyping these mechanical improvements we also saw considerable opportunity to reduce the mass of the hub without affecting the torque output.
These earlier videos filmed from Ken (owner of a Calgary based ebike store) as he was passing through town in 2010 show the early development and thought process:
Since then we've gone through a number of design revisions, enhancements, mold toolings, and several pilot production batches while working out many kinks along the way. The hub was really put to the test in several touring trips (such as 2013 cargo biking Vancouver to San Francisco, and the 2018 Sun Trip solar bike race) and has finally come of age in 2019 with the V2 model when we switched to a wider and more rugged bearing, cable exit on the disk side, and a move to o-ring seals rather than silicone sealant for the side plates and screws for more consistent mass production and easier servicing.
Marine Motor
We are actively developing a Marine version of our All Axle motor for people interested in electric sailboats conversions. The ~4kg motor can directly replace a much more massive diesel engine, and it is perfectly matched to drive the shaft 1:1 with no transmission required. Our standard width Grin motor with a 27mm wide stator can effectively replace an 8 horsepower engine, while a fatter 45mm stator option could replace a 12 hp diesel. This should broadly cover most sailboats with the 24-32 foot realm, or larger vessels if you don't mind being under powered.
We are planning to do a pilot launch of this motor in summer 2021 and are currently looking for potential pilot customers in BC lower mainland or Vancouver Island. Ideally these are people who have an existing sailboat with an inboard engine that is due for replacement, and with the drive shaft still in place. If that situation rings a bell and you have a strong interest in going electric, please fill out the google form below:
Where to Order
The Grin All Axle hub motors are available in stock at our shop in Vancouver and also sold through dealers all over the world, including ebike-solutions in Germany, Declic-Eco in France, BikeToTheFuture in Switzerland, and BikeSwift in the USA