Page Last Modified On: October 23, 2023

Introduction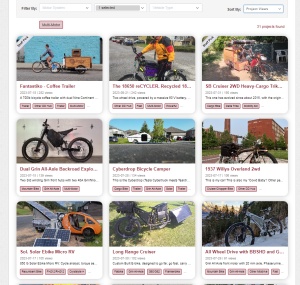 Running dual (or more) motors on an ebike is one way to increase the power and hauling capability an ebike project in situations where a single motor has insufficient torque. This comes up frequently with cargo applications or multi-person bicycles, but even conventional setups can benefit from the improved traction control and system redundancy. Have a look at our project gallery for some great examples of multi-motor ebike builds.
Videos
For an in-depth understanding of when it makes sense to build a multi-motor setup and how to configure it, please take the time to watch the video presentation we did on this topic for the 2020 virtual SPEZI bike show. In general, we will direct most inquiries to first watch this video before we will talk specifics about your project with you.
A guide to multi-motor (2WD and 3WD) ebike drive systems
Hardware
Multi-motor systems are rarely 'plug and play' and require a deeper understanding of ebike electronics than a typical kit. There are a few configurations of multi-motor drive systems for which we have premade wiring hardware to reduce the amount of custom wiring required.
Two Systems with Stand Alone CA3

We make a modification of our Stand Alone Cycle Analyst Shunt that includes two throttle output cables and two battery output cables in order to wire up two independent drive systems off a single throttle and single battery bank. Check out this Dual Controller Shunt here. This configuration does NOT require controllers with a Cycle Analyst plug, and can be used in principle with any ebike motor controller that takes a regular (1-4V) throttle input signal. A V3 CA3-DPS plugs into the shunt which shows the combined current draw of both motor controllers. Your throttle plugs into the Cycle Analyst, and the throttle output of the CA3 is converted into two 3 pin JST plugs to hook up to the throttle input of each motor controller. Vehicle speed is captured from a spoke magnet and sensor on the CA3-DPS.

Dual Systems with WP8 Splitter

For modern (2020+) Grin systems with the WP8 Cycle Analyst plug, we make a dual WP8 splitter cable that lets a single CA3-WP control both motor controllers without requiring an external shunt. The speed signal, motor temperature signal, and battery voltage signals come from the controller with the red band. Both controllers will turn on and off together from the MFSwitch, and the Cycle Analyst should be running the V3.2 firmware with "dual motor" shunt mode enabled in order to accurately show the combined current draw of both controllers. If the controllers are Baserunner controllers mounted inside a downtube battery, then it is useful to have the baserunner modified with a battery tap port to permit you to run a 2nd motor controller off the same battery pack. Otherwise you cannot easily access the battery's V+ and Gnd wiring for the 2nd controller system.

Dual Headless Systems, Split Throttle

For systems running without a Cycle Analyst or other display, then it's simply a matter of splitting the throttle and ebrake signals among all the controllers. This throttle splitter cable serves that purpose for systems running our older Grinfineon controllers and first generation Phaserunners and Baserunners, all of which had a 3 pin JST throttle plug on them. Grin has not supplied controllers compatible with this cable since 2020.