Page Last Modified On: November 10, 2023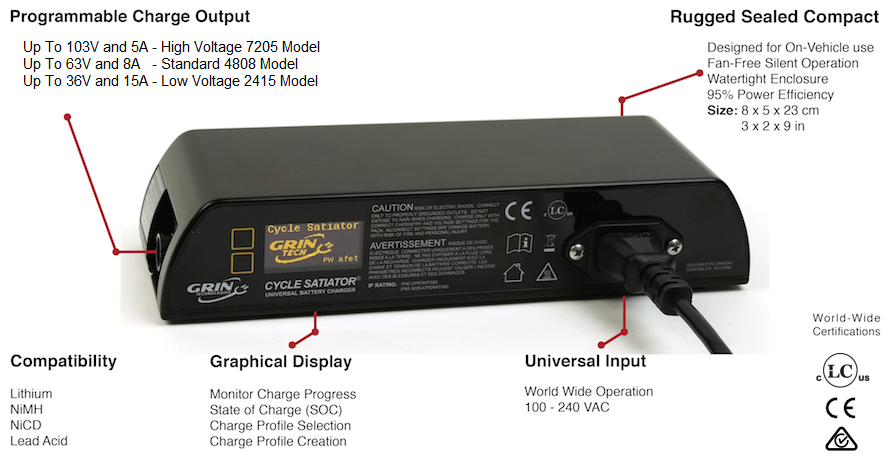 The Cycle Satiator® defines a whole new class of 'smart charger', one that gives you, as a user, dealer or OEM, full control to set up the optimal charging scenario for your batteries.
Design Features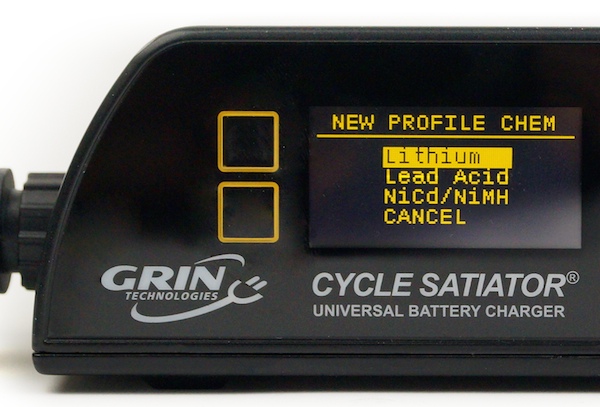 Universal Compatibility
The Cycle Satiator is not limited to charging a specific battery type. Instead this one charger model can be configured for virtually any lithium, nickle metal hydride, or lead acid battery pack. Our standard 48V 8A model will charge packs with up to a 63V max charge voltage (15s for lithium), while the 72V 5A model will work all the way to to 103V max (24s lithium).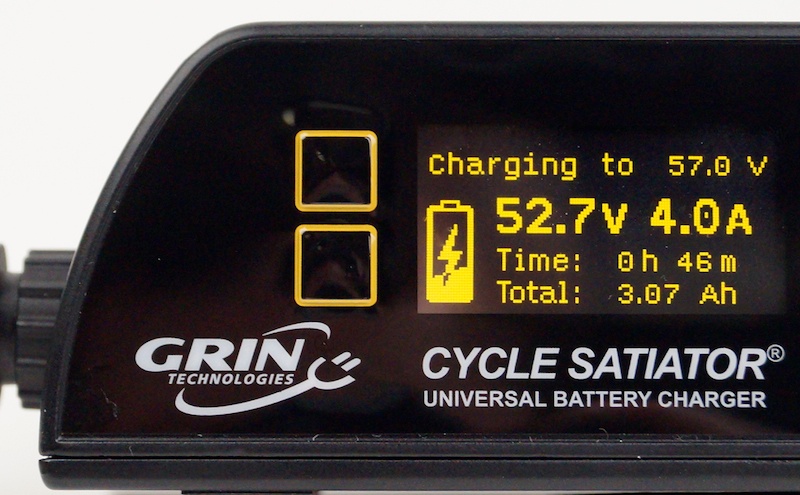 Informative Display
A large and bright OLED display screen shows all your realtime charging statistics; you can see the total amp-hours and voltage along with a clear graphic indicating the approximate charge in the pack.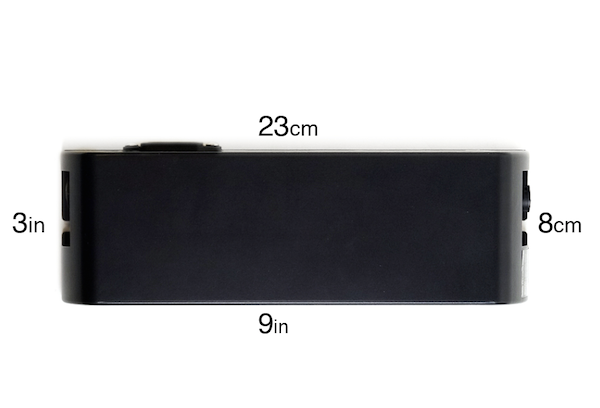 Compact and Narrow Size
The charger is less than 5cm high and 8cm wide, allowing it to fit easily in a saddle bag, under the rear rack, inside a frame triangle, or screwed to a chassis.
Power Factor Corrected
AC input runs from 100-240v, allowing for worldwide operation without any voltage selection switch, and features a 0.99 power factor which will please your utility grid too.
Benefits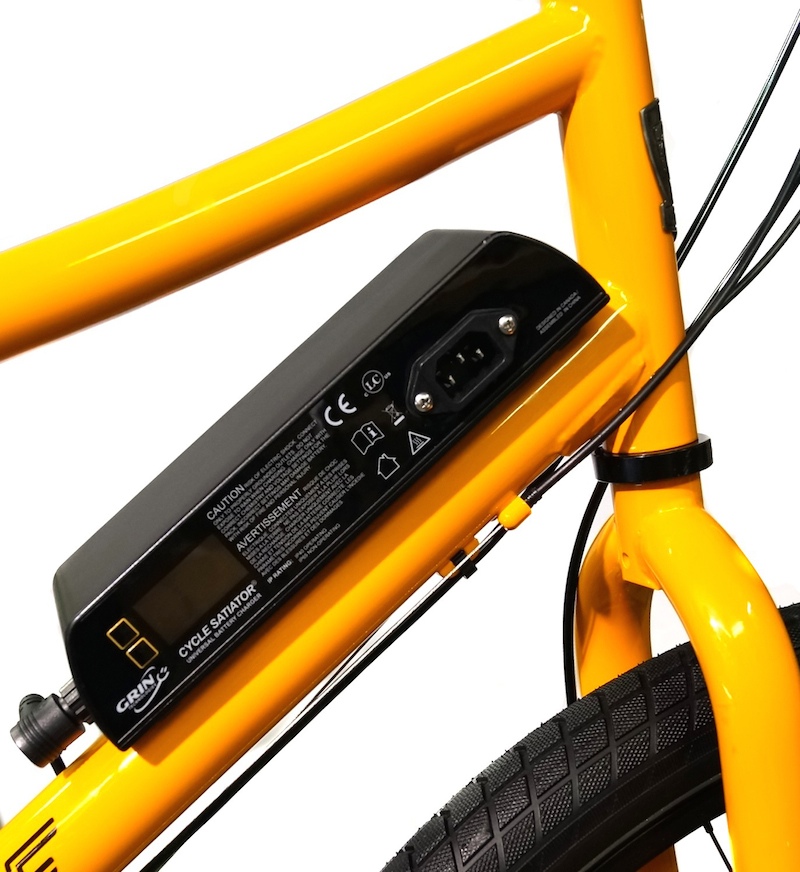 Onboard Installation
The rugged, compact, and fan-free design allows the charger to be permanently mounted on the vehicle without risk of premature failure from vibration or exposure.
Seriously Fast Charging
With a 360 watt power output, the satiator can charge your batteries in half the time of typical 4amp 'fast' chargers. It delivers up to 8 amps with 24 and 36v packs, and 7 amps with 48v packs.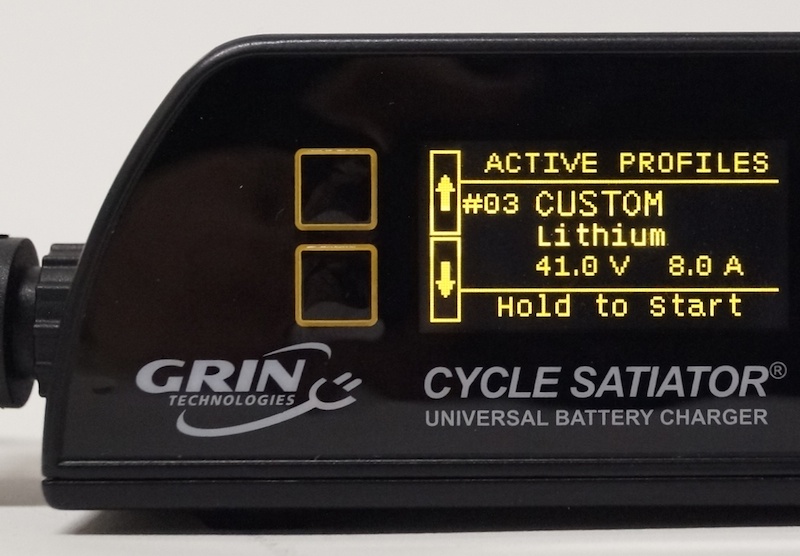 One Charger For All
No need for a different charger for each battery type, the satiator can be programmed to work correctly with almost any packs on hand. select from one of our common preloaded profiles or make your own custom charge profiles.
Quick Select
Have anywhere from one to dozens of preconfigured charging profiles active, enabling you to readily switch between output modes with just a quick button press.
Satiate for Enhanced Cycle Life
Most lithium batteries are capable of vastly improved cycle life if they are not fully charged to saturation all the time, but at the expense of reduced range.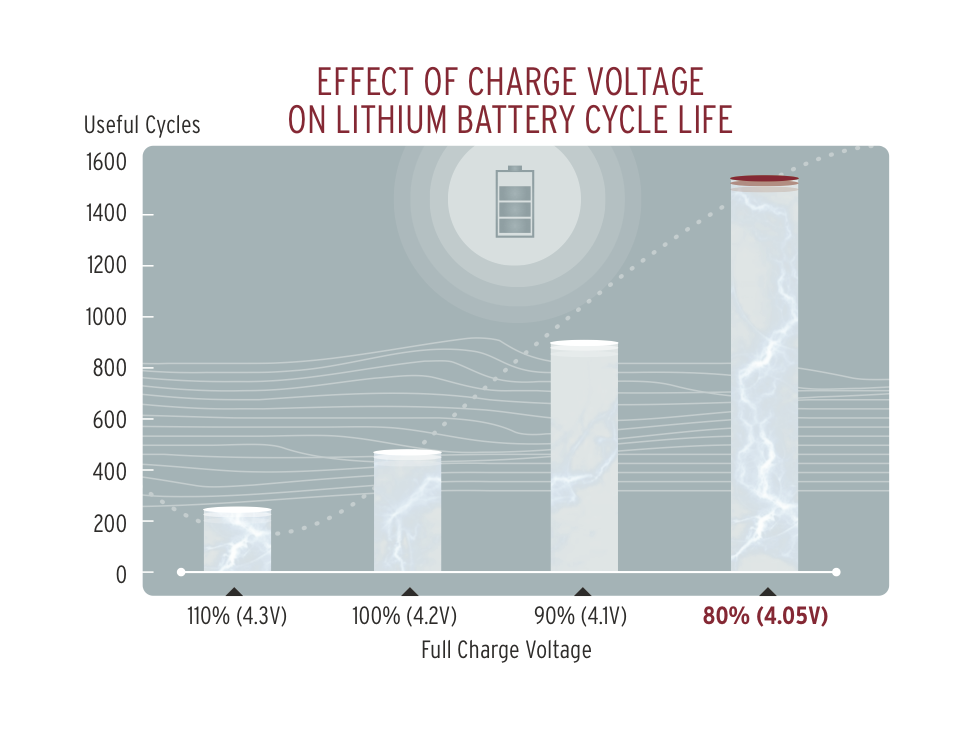 With the cycle satiator, you can program your primary profile to give an 80% charge, and have a secondary profile that does a 100% charge when you need full range. Then have the best of both worlds, a battery that lasts thousands of cycles but still goes the distance when you need it. For more details, read here.
For OEM and Businesses
In addition to electric bike enthusiasts, this charger is of great value to ebike businesses that need to manage a range of battery packs, and for oems wanting to distinguish their vehicle with a rugged and modern full featured charger.
Certifications
This device is CSA, UL, and CE listed, meaning it has passed rigorous safety and reliability tests, and can be legally resold in most jurisdictions.
Cables and Connectors
The Satiator uses the common IEC connector for the AC input, which is the familiar plug used on computers and many other devices. We have plugs available for the North American, European, UK and Australian/NZ standards, or plug adapters can be used for other countries.

The DC output is connectorized via the waterproof Singatron 2ct3002-w03400 jack. Each Satiator includes a 1m long DC ouput cable that is terminated in a 3-pin male XLR plug. This is a fairly common connector for ebike battery packs, and is used by Allcell and eZee batteries as well as many turn-key electric bikes and scooters. Pin 1 (white wire) is V+, Pin 2 (black wire) is Gnd, and Pin 3 (yellow wire) is for both temperature sensing (with NiCad/NiMH packs) and communications.
There are a host of optional adapter cables from this 3-pin XLR standard to other connector types that can be included with the purchase:
XLR to Anderson

An XLR to Anderson adapter converts the power leads to a pair of red and black Anderson powerpoles, allowing you to charge a battery via this connector which is commonly used on the pack's discharge wire.

XLR to XT60

An XLR to to XT60 adapter, commonly used with RC style battery packs. We have this available both with male and female XT60 plugs as there does not seem to be a consistent gender standard used by battery vendors.

XLR to DC

An XLR to DC jack allows the Satiator to charge most frame mounted batteries, like the common "shark" or "dolphin" packs. While the 5.5 x 2.5mm DC plug used on our adapter is rated for 7 amps, most of the DC jacks used on these batteries are of low quality and should generally not be used at more than 4 - 5 amps of current.

XLR to Rosenberger

This XLR to Rosenberger adapter cable uses the straight version of the Rosenberger plug and has one of the signal pins connected to a 5V supply, making it compatible with Specialized ebikes and other factory ebikes using the Brose based drive system. The right angle version of the Rosenberger plug does not fit inside the charge port cavity of the Specialized battery enclosure.

XLR to RCA

The RCA style plug is commonly used on older generation rear rack mounted batteries such as those sold by Golden Motors. Like the DC jack, it is not a connector style commonly associated with high currents, so care should be excersized when using this at more than 4 - 5 amps.

XLR to 4 pin XLR

The 3 pin to 4 pin XLR adapter cable is specfically made for the Juiced Riders ODK cargo ebikes. These batteries use a 4 pin plug, but simply double up on the pins so that there are two V+ and two Gnd pins. The new 2017 battery series from Juiced are compatible with full 8A charge currents.

XLR to ST3

An XLR to ST3 adapter allows the Satiator to charge the majority of the batteries currently offered by Grin. The ST3 connector supports higher currents than the commonly used DC jack.

The XLR to GX adapters allow the Satiator to charge a variety of electric unicycles, scooters, and skateboards. Most EUCs will require that you use Satiator firmware v1.039 or newer, available bundled with the software suite at the downloads link below.

XLR to 3 Pin GX12

The XLR to 3 pin GX12 adapter is compatible with Inmotion V8/10/11 electric unicycles.

XLR to 3 Pin GX16

The XLR to 3 pin GX16 adapter is compatible with Wolf King GT/Pro, Wolf Warrior, Mantis 10, Apollo Explore, Apollo Ghost, Mantis 8, and Meepo Hurricane scooters and eboards.

XLR to 4 Pin GX16

The XLR to 4 pin GX16 adapter is compatible with Tesla V1/V2/V3, Mcm5 V1/V2, and Mten3/4 electric unicycles.

XLR to 5 Pin GX16

The XLR to 5 pin GX16 adapter is compatible with Ex20s, Hero, Ex.N, Nikola, MSP/RS, Tesla V4, Sherman, Abrams, Sherman S, Commander, and Inmotion V12 electric unicycles.

TTL to USB

The TTL->USB cable is used for connecting the Satiator to a computer's USB port for updating firmware and reading/writing new charge profiles. This is the same 3m long cable used by the Cycle Analyst, but with some additional circuitry to protect against high voltages present when it is first plugged in.
Each of these adapter cables also has a TRS jack on it (commonly used for audio headphones) which allows you to connect the Satiator to a computer using the USB->TTL communications cable.


For those looking to wire their own custom adapter cable with a communication port, both signal lines of the TRS communication plug connect to the signal wire of the Satiator via a 1kOhm resistor, as described in this ES thread post.
Models
At present, we have designed 3 models of the Satiator charger optimized for different voltage ranges all sharing the same great feature set and firmware. The 48V 8A and 72V 5A models are both in full production, while the 24V 15A model is available for samples from interested OEM parties.
| | | | |
| --- | --- | --- | --- |
| Model Name | 2415 | 4808 | 7205 |
| Max Voltage | 36V | 63V | 103V |
| Max Current | 15A* | 8A* | 5A* |
| Typical Batteries | 12-24V | 24V-52V | 36V-84V |
*Current also clamped by 360 watt power limit
Downloads
The Windows version of this application is a self extracting archive that can be extracted and run from whatever folder you choose. The macOS version of this application may require additional security permissions to be run as we are not currently a registered developer with Apple, and may require the unzipped app be copied across from your downloads folder to the Applications folder to run correctly.
In order to update the firmware on a Satiator device, follow these simple steps:
1) Put the satiator device into "connect to PC" mode by pressing both buttons to enter the setup menu, then scrolling down to the line that says "Connect to PC", and select that by holding the bottom lower button.
2) Go to "File --> Update Satiator Firmware..." in menu of the software suite.
3) Click the "Browse" button to see the list of available firmware files on your computer and select the appropriate .Satiator file. To be sure that your list is up to date there is an option to download the most recent firmware from the file menu
4) If you want to reset all your profiles to default during the firmware update, then check the checkbox "Overwrite Profile Data". Otherwise, leave this unchecked and the firmware will udpate but the profile list will stay the same.
5) Press the button "Update Firmware". This will erase, reflash, and verify the firmware on your device, with progress bars moving forward at each step. Avoid unplugging either the communication cables or the AC power cable during the firmware update. If this does happen by mistake, then the device will not work but it can be reflashed again by holding down the lower button when AC power is first applied in order to force bootloader entry (see section 2.3 of user manual).
Note, if you have a very old device with V0.916 or earlier, then it is important to first update your firmware to the recent 1.0XX release before you attempt to read and write profiles. Follow the steps above and be sure to check the "Overwrite Profile Data" box.
If you are using a GX adapter and having trouble charging, please make sure that your Satiator is updated with v1.039 firmware or higher, bundled with the latest software suite linked above.
Serial Command Firmware
For advanced engineering customers using the Satiator in special integrated OEM applications, we also keep a firmware branch that enables ongoing serial communication with the Satiator during the entire charge process. With this firmware you can remotely select charge profiles, start and stop charging, query the charge status, and do other tasks without any engagement with the buttons.
Note that the 3rd pin of the charging cable is not available to use as a battery thermistor sensor anymore as it is exclusively for serial communication, which means NiMH and NiCad battery profiles must rely on -dV/dt charge termination.
This firmware can be installed via the Saiatoar software suite: File->Update Satiator FIrmware->Brose Then select the .satiator file that was downloaded above. There is no implicit support from our sales team in the use of this firmware. If you can't figure it out from the documentation above, then it's probably not for you.
Online Charge Simulator
We've also produced a web application for creating custom charge profiles with the Satiator and simulate the charge times of various battery packs. This is especially useful for configuring custom partial charge profiles in order to improve the cycle and calendar life of your battery.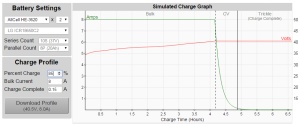 Specifications
Electrical
| | |
| --- | --- |
| Input Range | 100-240VAC 50-60hz |
| Output Range 4808 | 12-63V, 0-8A, 0-360 W |
| | |
| --- | --- |
| Input Range | 100-240VAC 50-60hz |
| Output Range 4808 | 12-63V, 0-8A, 0-360 W |
| Output Range 7205 | 20-103V, 0-5A, 0-360 W |
| Operating Efficiency | 95% @ 230v, 94% @ 120v |
| Power Factor | > 99% |
| No Load AC Power | < 1 watt |
| Output Leakage | < 100uA |

Mechanical
| | |
| --- | --- |
| Mechanical Dimensions | 237 x 78 x 48 mm |
| Mounting Holes | 5mm flange slots 220mm apart |
| Weight | 1.06 kg (1.33 kg with ac-dc cords) |
| Chassis Material | Diecast Aluminum |
Connectors/Cables
| | |
| --- | --- |
| AC Input Connector | iec320-c14 |
| DC Output Connector | Singatron 2ct3002-w03400 |
| DC Output Cable | 1m with 3-pin neutrik xlr (1=dc+ 2=dc- 3=signal) |
Interface
Dual tactile push buttons for field setup
128x64 OLED graphical display for charge / profile info
LIN bus on signal pin for pc communication and firmware updates (requires custom cable)
Regulatory Certifications
| | |
| --- | --- |
| Safety | ul 1012, csa c22.2 no. 107.2, ce / iec 60335-1/2-29 |
| Emissions | FCC part 15 b, en55014, en 61000-3-2, en 61000-3-3 |
| Immunity | en 61000-4-2/-3/-4/-5/-6/-11 |
Videos
Introducing the Satiator and new GX adapter cables to the Electric Unicycle, Skateboard, and Scooter community
2023 Satiator Update: New Adapters with Firmware for EUC's, Scooters, and EBoards!
A video tutorial on basic usage of the Satiator
This is the first video that we did introduction the original Cycle Satiator

The next video shows the introduction of the full Satiator family, with both the 24V and 72V models.

Here is a simple tutorial on setting up the Satiator with a basic charge profile appropriate for your battery pack.

This last video review and tutorial comes completely unsolicited and courtesy of Bruno, who puts our own video production efforts to shame with his unbridled enthusiasm. We recommend checking out his channel for many other great video tutorials related to DIY ebikes.

Troubleshooting
If you have a unit that displays any of the symptoms below, then please contact Grin so we can determine if a warranty repair or replacement is required.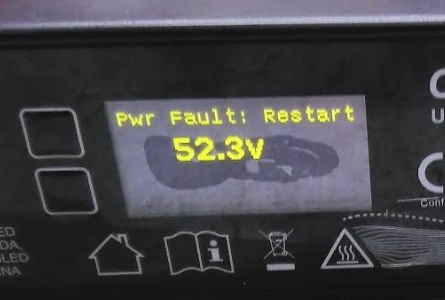 Power Fault Error, Restart: If you see a "Pwr Fault Error", but after unplugging and reconnecting AC power the Satiator runs and charges fine, then that is normally the result of a brief hiccup in the AC supply line or a BMS circuit that was repeatedly tripping and resetting during the charge process.
Most commonly, the power fault error appears at the end of charging due to an imbalance in the battery. If the cells in your battery are unbalanced and any single cell group exceeds 4.2V, the BMS will abruptly interrupt the charge and cause the power fault error.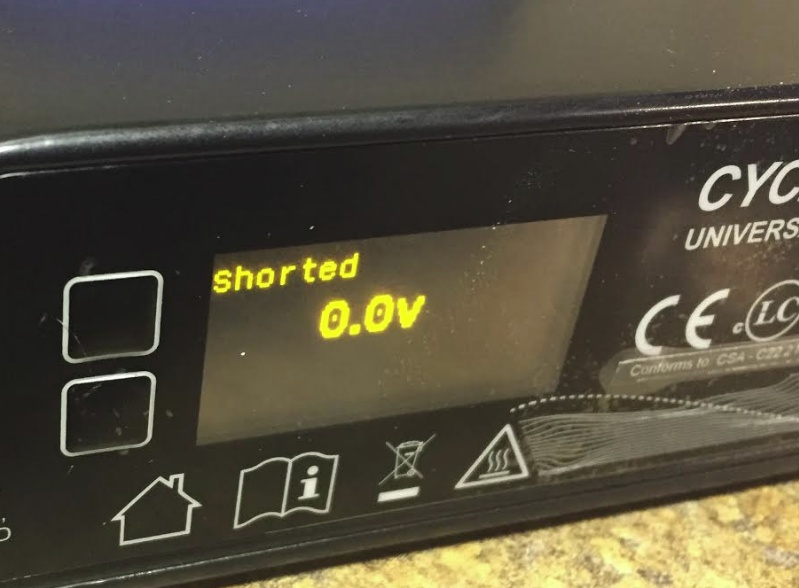 Shorted, 0.0V: Another issue was a potential failure of the soft start circuitry in place to prevent the electrical spark on connecting the Satiator to a battery pack. This would result in a message "shorted - 0V" on the Satiator screen when it is connected with no battery attached. However, the Satiator could still charge the batteries just fine if the battery was first connected while in the profile selection menu.
The cause of this failure was isolated to plug connections that exhibited a certain timing of electrical contact bounce and it has been prevented with the V1.025 and later firmware updates. If you are running the V1.024 or earlier firmware we recommend updating to the latest firmware right away to prevent this from occurring. Otherwise if you have a device with this issue, contact Grin and we'll get it fixed.
Version 1.032 Firmware: A bug in firmware version 1.032, released in 2020, would occasionally cause Satiators to stop working - the screen would shut off and the device would no longer communicate with a computer. If you have a device with this firmware that is working, please update to the latest firmware using the software available above. If you need a USB cable and/or adapter to do so, or would like us to update it for you, please contact us.
If you have a recently purchased Satiator that will no longer turn on, please contact us so we can repair it or get you a replacement.
Where to Order