Page Last Modified On: May 6, 2022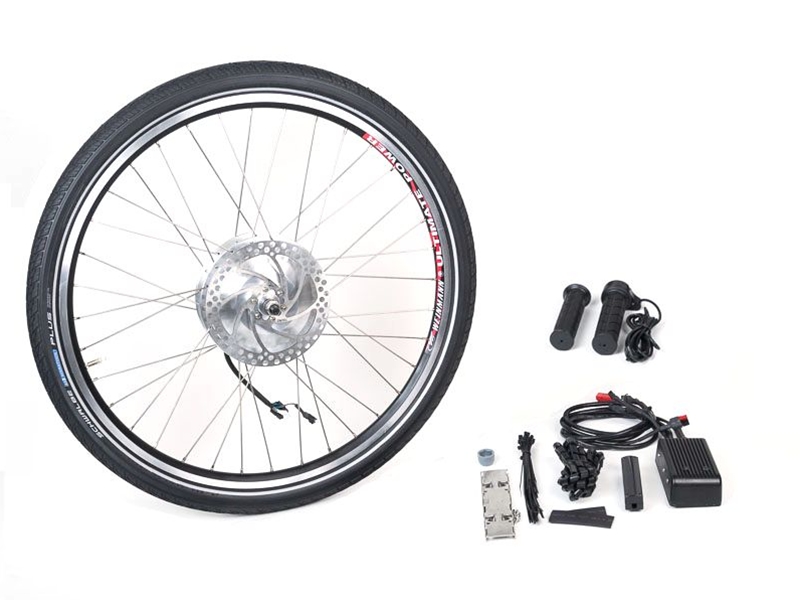 The geared hub motor kit from eZee bike is one of the nicer complete ebike conversion packages available. It is light weight, well engineered, torquey, and fully compatible with North American bicycle standards.
When we first got in touch with eZee in late 2007 it was apparent that this company stood apart from all the others we have dealt with in their understanding of western expectations for quality and product support. Since then, we have worked with eZee to tailor a version of this kit to match our own product line, including the Cycle Analyst port on the motor controller, universal battery voltage compatibility, interchangeable throttle standards, a rear wheel option, and a high RPM 20" version. With the choice of either front or rear hubs and full disc brake compatibility, there is an eZee kit suitable for just about every model and style of bicycle or tricycle out there.
What's Included
The stock eZee kit includes the base items required to convert a bicycle to have electric assist.
500 watt internally geared eZee brushless hub motor laced in a double walled rim
Schwalbe Marathon puncture resistant tire and inner tube
A 25 amp (IRFB4110 mosfet) motor controller
Your choice of a thumb, twist, or half twist throttle
An assortment of cable ties, controller mounting bracket and a connector housing
Two-piece Torque Arm, for those who want extra security against axle spinout
Plus, you have the option of getting the following accessories:
Direct Plug-in Cycle Analyst, to display information about the battery and performance of the vehicle
Pedal Assist (PAS) magnet ring sensor, or full torque sensing bottom brackets
Ebrake Levers, causes the power to shut off as soon as the brakes are squeezed
High capacity 36V 15Ah, or high speed 48 volt 11Ah eZee lithium battery packs
Battery racks, if you would like a tidy mounting system for your battery
eZee Battery Options
The eZee kits can be used with any 36V or 48V battery packs capable of handling 25A of continuous discharge current, but since the eZee controller does not have it's own ON/OFF switch we recommend choosing a pack that does. We stock two hard case batteries from eZee that are perfect most most needs. For those who require signficant range but don't need high speeds, the 37V 15Ah option is made from Panasonic V3 cells is an excellent choice. For those wanting a faster setup, you can upgrade to the 48V 11Ah pack and achieve ~40 kph (25 mph) cruising speeds. Each battery choice comes with a matching 150 watt charger.
eZee Accessories
Throttle Type

The standard kit includes a full-length twist throttle, which works well with thumb lever shifters. If you have twist shifters, then you may want to consider either a thumb throttle or a left-side twist throttle, which we can substitute in place of the twist throttle at no charge.

Cycle Analyst Upgrade

The kit comes with a handlebar-mounted 3-LED battery level indicator. The Cycle Analyst upgrade provides a display console with precise information on speed, power usage, and efficiency, and it also gives the advantage of programmable current, voltage, and speed-limiting features. Read more about the Cycle Analyst here.

Freewheel Choice (rear only)

The rear wheel kits are supplied by default with a 7 speed 11-32 tooth freewheel, which fits fine on the eZee hub inside the standard 135mm rear dropout width. There is the option of getting an 8 or 9 speed freewheel instead, but because these are wider a spacer washer is required that extends the axle length to 138mm so that the small gear does not rub against the frame.

Battery Rack Option

The standard kit comes with a battery and charger, but for those looking to a way to mount the battery on the bike we offer three options: first is a battery bag that uses velcro straps to secure the battery to an existing rack. The second is a double decker rack that has a space for the battery to slide into and lock using the bolt mechanism on the eZee battery and the third is a seatpost rack that uses the same idea.
Specifications and Installation Manual

Mechanical Dimensions of the Front eZee Hub

Mechanical Dimensions of the Rear eZee Hub

eZee Controller Installation and User Guide
We are still in the process of writing an updated 2011 version of the eZee installation guide, that includes both front and rear hub motors and the flat pack battery options. In the meantime our 2008/2009 Version 2.3 install guide and user manual contain most of the relevant information.
We still have available the original install guide for the eZee hub motor system that was written for the 2007 version of this kit.
Specifications
Controller Specs

Max Voltage:
60V
Low Voltage Cutoff:
29V
Current Limit:
25A
Throttle Type:
Hall Effect, 1-4V
Dimensions:
115 x 70 x 40mm
Weight:
0.35 kg



Motor Specs

26"/700c Kv:
7.2 RPM/V
20" motor Kv:
9.1 RPM/V
Power at 36V:
550W
Power at 48V:
750W
Weight:
3.8kg


Highlights
Geared Drive
The 5:1 planetary gear drive in the eZee hub motor makes it possible to have a high torque output without all the bulk and weight of a direct drive machine. The eZee motor weighs just 3.8kg compared to 6kg for a comparable 400 series Crystalyte motor. Both the sun and ring gears are steel. The planetary gears are a machined (not cast) nylon, and easily replaceable should they ever wear out.
0.35mm Laminations
The motor core has been upgraded to use 0.35mm thick stator laminations, giving higher peak efficiency and lower no-load losses than other comparable geared hub motors in this power class.
Freewheel
As with most geared hub motors, the hub itself can spin freely in the forwards direction without any motor drag. With no cogging torque, you can rest assured that the presence of the hub won't interfere with the rideability of the bike when you aren't using electric assistance. It spins freely just like a regular bike wheel.
Rim, tube, and tire
The hub motor is pre-built in a black alloy double-walled eyelet rim, with quality 13 gauge stainless spokes, and a pre-inflated tube and puncture-resistant Schwalbe tire to boot. All that is required for installation is removing the original front wheel, replacing it with the eZee wheel, and connecting the wires.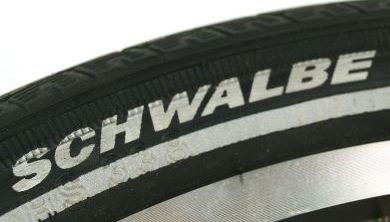 Water Resistance
From our perspective, one of the nicest details of this kit is the considerable attention that eZee has put into keeping water from damaging any part of this rig. The motor cables are completely sealed where they come out of a hollow in the centre of the axle. The motor controllers have an o-ring seal around the lid and a fully conformal coated circuitboad.
However, water can get into the controller housing by tracking along inside the wire sheath, and if the insides of the controller stay pooled up with water then erratic behavior will result. So it is very important to install the controller with the wires exiting at a downwards angle so that they don't funnel water into the casing. If the particular cable arrangement doesn't allow this, then you can also drill holes through the enclosure casing at the lowest point in your installation so that any water that gets in will drip out.
Cycle Analyst Compatibility
Our eZee motor controllers are compatible with our Direct Plug-in (CA-DPS) Cycle Analyst device and include a label with the exact RShunt value for calibration. The 6-pin connector on the controller plugs into the supplied 3-LED battery indicator by default, but if the Cycle Analyst upgrade is purchased for the kit then the CA can plug in here instead. This adds a range of additional functionality such as programmable low-voltage cutout, speed and current limiting, and precise, quantitative battery pack monitoring.
Speed
At 36V, the eZee kits can easily maintain the legal ebike speed limit of 32kph (20mph) while still outputting an appreciable 200-300 watts of power. Up hills, the speed will slow down until the motor is supplying sufficient torque to overcome the load. For exact details please see our motor simulator. The 20" eZee kits have the motor wound for a higher RPM, so that the speed on the road is roughly the same as with the 26" kit.
For people who require faster speeds than this, there are two options. One is to use a 48V battery pack. The other option is to start with a high rpm 20" wheel kit and re-lace it into either a 26" or 700c rim. With this latter approach you can achieve 40kph speeds while staying with a 36V battery, which provides many more off the shelf battery choices.
Disk Brake
Both the front and rear eZee hubs have an integrated 6-hole ISO disk mount to accommodate disk brakes on the left side. The narrow design of the hub allows sufficient space for the most calipers to be mounted without clearance issues against the side of the motor.
Update on 48V Operation
As of 2010 our eZee controllers are now all custom made with IRFB4110 mosfets, similar to the infineon controllers, so that they run cooler and have no issues handling 48V packs. So for those wanting additional speed and power from their eZee hub, there is the opportunity to simply run the system as-is but with a 48V battery. Note that this is one of our own customizations, and stock eZee controllers and kits sourced through other distributors do not have 48V compliance.
Drawbacks
There are a few reasons why the eZee geared hub motors might not be ideal for your application, and a direct drive motor could be more suitable instead.
| No regenerative braking | Gear Noise | Less Opportunity to Overload |
| --- | --- | --- |
| As with any freewheeling setup, it is not possible to use the hub for regenerative braking even if combined with a regen motor controller. | Compared to other geared drive systems, the eZee motor, with its nylon planet gears, is relatively quiet; the faint buzz of the gearing is dwarfed by traffic noise. However, for absolute silence nothing compares to the direct-drive motors. | Since the eZee motor is smaller and being run at its optimum power and RPM level, it is not as tolerant to being pushed beyond the specified design parameters as the larger direct drive hubs. Warranty is voided on the eZee motor if the input power to the hub exceeds 1000 watts. |
Frequently Asked Questions
Can you install it for me?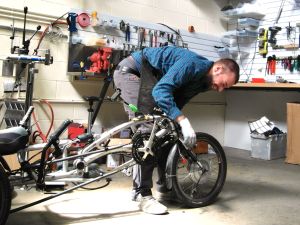 No, due to time and space constraints we do not do kit installations at our shop in Vancouver. For the most part, we recommend users follow our install guide and do the installation themselves. This way you are intimately familiar with how the system goes together and you will be more adept at basic troubleshooting if required. That said, there are several bicycles stores in the area that can provide the kit and offer installation services. The iconic Russ Hay's has provided great service to customers in Victoria, BC and JVBike, The World Cycles and Cambie Cycles can do installations in Vancouver, BC. In Ottawa, ON, RideMore (formerly Acclivity Solutions) sells and installs the kit.
In the US, our version of the eZee kit is currently sold and supported through The Ebike Store in Portland, OR, and The Bicycle Works in San Anselmo, CA.
Can you ship it to location X?
Yes, we have shipped eZee kits to pretty much every country in Europe, all over North America, and much of Australia/New Zealand. 2-3 day Fedex Shipping is about $150 to Europe and $200 to Australia. Shipping to the US varies from state to state, ranging from $30-60 for 2 week parcel service, $70-90 for 3-4 day XpressPost, or $100 for overnight delivery via Fedex. Exact shipping quotes are provided during the cart checkout process.
Do you sell or service eZee bicycles, like the Forza, Sprint, etc.?
No, we deal exclusively with conversion kits, not their full bicycles. The eZee bicycles are distributed by Scooter Underground in Victoria, BC. For a complete list of eZee bicycle dealers and support centers in Canada, have a look at the
eZee bike website
.
Can I get just the hub?
Yes, as of Jan 2011 we now have a number of unlaced front eZee hubs available, both in the standard and the high rpm (20" wheel) wind version. These hubs are a special run we had made with 144 spoke holes, which enables easy lacing in both 36 and 48 hole rims, as well as 32 hole rims by alternating between every 4th and 5th hole in the flange.
Can I get it with another battery?
Yes, it is easy to run the kit with just about any 3rd party 36V or 48V battery pack provided that it can deliver at least 20 amps of continuous current. At one time we offered a package deal with a less expensive NiCd pack, but at the moment we only have the three high-end lithium options listed above. In general, when running off a 36V battery you can expect about 3-4 km of range for each amp-hour of capacity.
Will it work with other controllers?
Yes, the eZee hub can be driven by most 3-phase brushless motor controllers that use 120 degree hall timing. Notice though that some controllers will spin the internal motor backwards, which will result in the wheel not spinning at all. The Crystalyte controllers and our own line of Infineon controllers have a FWD/REV direction control which ensures compatibility.
What if I don't have disk brakes on my fork?
Use conventional rim brakes on your bike, but be sure to install the screws and washers in the disk mounting holes to keep water out of the hub motor.
Do I need special disk calipers?
The eZee hub motor was engineered so that there is around 18 mm between the rotor and the side cover of the motor. If your existing caliper can fit in this space, then it should work just fine. If not, we do sell the Shimano BR-M545 which has a narrow profile and easily fits in the space provided. This caliper is supplied with the correct adapter for a 180mm rotor. If you want to use your existing caliper but it is spaced for either a 160mm or a 203mm rotor, then you would need to either replace the included 180mm unit with the appropriate sized disk, or get the standoff spacer for your caliper so that it accommodates 180mm.
Can I run it at 72V, or with a higher current controller, in order to get more torque?
We do not recommend running the eZee hub motors with more than 48V or more than a 25A motor controller. At higher power levels, there is a chance of either melting the insulation on the lead wires that go into the hub, or of rapidly wearing down the internal gears.
How long do the gears actually last? Will they need replacement?
So far our own concerns about the longevity of the gears in these motors have been laid to rest by experience. With many hundreds of eZee motors sold over the last 3 years, the number of gearing related failures is less than 2%. Opening up and replacing the insides of the eZee motor is very straightforward if servicing is required, and we do carry replacement gears and freewheeling clutch assemblies just in case.
How does this system compare to BionX?
We are often asked how the eZee kit compares to the BionX 36V lithium conversion package. Both are great systems that have similar motor power, are similar weight, have disc brake compatibility, and nearly identical battery capacities. Asides from cost, the main differences are these:
Geared Vs. Direct Drive: The eZee hub is internally geared with a freewheel which means it cannot do regenerative braking, while BionX is direct drive which means there is always some cogging torque to turn the wheel. So there is zero motor drag when riding with the eZee hub, but BionX can do regen and does it well.
Power Control Mode: The eZee system uses a throttle to regulate motor power, while BionX is based on a strain sensor that amplifies the user's pedalling torque. It's somewhat like the difference between a standard and an automatic, with the throttle giving more direct user control over their vehicle while the pedalec feature of BionX does the power regulation automatically.
Openness: BionX is a proprietary system, all the parts are 'intelligent' and communicate with one another so you can only use their batteries and their components. This is fine if their kit as supplied suits exactly what you need. EZee is an open system, you can swap in and out different battery packs to suit your range and speed requirements, and can easily upgrade to 3rd party motor controllers and throttles and the likes. This difference is especially important to us when considering the long-term support for a product which can well outlive the company that produced it, and is the main reason we do not deal with BionX products.
How does this compare to BMC?
The eZee motors have the same basic internal construction as the geared BMC hubs, and hence offer comparable performance as well. At one point both eZee and BMC had been collaborating on this geared motor development and that is the reason for their similar design. They are not the same motor sourced from the same plant though. We have been to the eZee factory and they build and assemble all their motors on site. BMC is primarily focused on selling hubs only, while eZee delivers the entire package as a high-end and well integrated kit.
Business
We are also a distributor of the eZee conversion kit to bicycle shops and other businesses that are dealing with and installing electric bicycle conversions. This could be great timing if you run a bicycle store and are looking to branch into electrics. For mainstream bike shops it offers a viable alternative to BionX, without the low quality components that usually constitute imported kits. We keep inventory ready for next day shipping from Vancouver, can offer full local support and warranty service, and could help your business stay at the forefront of this exciting development to the world of cycling. Please contact us via email with some background about yourself for more information.