Page Last Modified On: October 28, 2021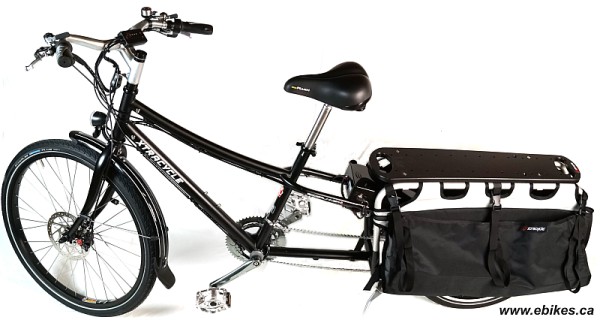 The Edgerunner is an exciting project partnership between ourselves, Naked Cycles, Xtracycle and eZee bikes, to create what we all felt would make the ultimate all-around utility ebike. It is not an entry-level machine, but compared to other ebikes in the same price range this one packs a serious punch and truly delivers when you are looking for a full-on car replacement. Have a look at reviews in Momentum Magazine, and the take from Clever Cycles' blog.
| Item | Detailed Component Specification |
| --- | --- |
| Tires | Schwalbe Marathon Plus, 26x1.75 front, 20x1.75 rear |
| Rims | Weinmann DM30 (26" / 20") |
| Crankset | ProWheel Ounce, 170mm Cranks, 39/53T |
| Freewheel | 9 Speed, 11-32 Tooth Range, Total = 18 speeds |
| Shifters | Microshift 9 Speed Ratchet Thumb Shifter |
| Brakes | Avid BB7-MTN Mechanical Disk, 180mm Shimano Rotor |
| Headset | FSA Pig DH |
| Handlebars | FSA Metropolis Silver, 31.8mm Clamp |
| Cargo | Xtracycle 'V' Racks, FlightDeck, and Freeloader Bags |
| Controller | 25A, 36-48V, IRFB4110 Mosfets |
| Control Modes | Both Twist Throttle and Automatic Pedal Assist (5 levels) |
| PAS Sensor | Uni-Directional, 12 Pole |
| Motor | V2 eZee High RPM, Machined Gears, 700W Max at 36V, (900W at 48V) |
| Batteries | 36V 14.5Ah LiMn, 5C rated 18650 22P Samsung cells (7p x 10s) |
| Battery Indicator | 5 LED eZee Console |
| Charger | High Power Brand, 160 Watts, UL Listed, 36V 4A |
| Total Weight | 30.5 kg, inclusive of everything (Batteries, Xtracycle deck, Saddle bags etc) |
We provide two battery options for the bike. The 36V 14.5Ah battery will provide a top speed of 32 kph and a range of 40-60km, while the 48V 10Ah battery increases the speed to ~39kph but with a reduced 30-45km range. Be aware that the 48V battery can enable speeds above the legal limit for a pedal assist bicycle unless a Cycle Analyst is included as well. A version using a stokemonkey mid-drive rather than a hub motor is expected to be complete in early 2013.
Background
The Mule
This all started while some folks from Grin and Xtracycle were on an electric longtail powered ebike adventure up the Sunshine coast to Cortes Island. A chance detour had us visit to the legendary handmade bike builder Sam Wittingham, who had built an electric cargo bike for his own family and island needs, nicknamed "the mule", which was even featured in
Popular Mechanics
. It was a thing of beauty, with graceful swooping frame tubes and an attractiveness and bicycle appeal that you rarely see on often unwieldy cargo bikes. Even our little An'So couldn't resist the ride. It hit all the right marks and had to be made more widely available!
With longtail pioneer Xtracycle providing the cargo know-how, branding, and distribution, eZee bikes looking after assembly, Sam providing the frame design and component expertise, and ourselves contributing what we do for an open set of electric drive standards, we felt this could be a real winner.
The Features
Most defining aspects of the Edgerunner stem from the 20" rear wheel. Normally a small rear and standard front wheel would look unusual, but the Xtracycle freeloader bags and deck fill out the rear space giving a nice visual balance. The smaller diameter rear then provides the following performance benefits:
Stronger Wheel: The 20" wheel size is less prone to bucking and spokes breaking when loaded down with cargo
More Thrust: When electrified with a rear hub motor, the smaller 20" diameter has extra leverage giving 30% more pull and hill climbing capability than the same motor in a 26" rim.
Lower CG: And finally, the smaller wheel lets the entire cargo deck drop a full 6 inches closer to the ground. That makes your load less top-heavy, improving handling and stability with gear piled up.
The bike comes as standard with quality parts through and through, cutting no corners in either the mechanical or electrical hardware specs. This includes sweeping Metropolis handlebars, Avid BB7 disk brakes, Microshift thumb shifters, and puncture resistant Schwalbe Marathon Plus tires.
To better accommodate electric drive options, the rear dropouts are spaced at 137mm so that hub motors with 8 and 9 speed freewheels would fit OK. The frame is made entirely from chromoly steel to handle all the drive and load stresses, and is outfitted with numerous cable guides to simplify tidy wiring.
The bike naturally conforms to the Xtracycle cargo standard, so any of the Xtracycle cargo accessories will fit. The V-racks, flight deck, and black freeloader bags are included.
Open Goals
One of our main objectives in this project was to produce a versatile ebike platform that was retrofit and mod friendly without being tied to proprietary components. A trend we've seen with most performance electric bicycles is that they are locked into custom motors, electronics, and batteries which have only a single source. What happens when you need a new battery in 3 years but the model is discontinued or the company has folded?
It's a story we've seen play out again and again. We believe that today's electric bicycles should still run 30 years from now, in the same way that a mountain bike from the 80's can still be serviced and maintained with standard bicycle parts today.
On that front, we designed a separate bolt-on battery rail that accommodates the eZee 36 and 48V flat packs we sell with the kits, tucking most of the pack neatly under the deck while the locking ON/OFF switch and charging port are still accessible. In the future, additional rail designs could accommodate other form factor packs. Or you can easily toss any shape battery into the significant cargo pouches of the Xtracycle bags.
While the stock electric version is outfitted with a high torque geared rear hub motor with machined (rather than cast) gears for maximum strength, the frame has plenty of space allowance for mid-drives (like the Stokemonkey), or for the use of an internal hub with a motor on the front.
Anticipated Frequently Asked Questions
How much is shipping?
At present, we're offering a Holiday Special of free shipping anywhere within Canada via Fedex Ground. For customers in the US, the stock electric Edgerunners should be available from Xtracycle directly in 2013. However, if you are wanting a model with the V3 Cycle Analyst and a THUN torque sensor, then please contact us for possible shipping options.
I already have a large battery I plan to use; can you supply it without a pack?
Yes, assuming that you have a 36V or 48V battery capable of delivering 25A of continuous current, then it should run fine with that as well. The Edgerunner without a battery and charger is $2900. The motor controller uses Anderson Powerpoles for the battery connection.
How much assembly is required?
The bike comes boxed and partly disassembled for shipping. All the electrical components are installed and wired up, but basic mechanical assembly is needed, like setting the handlebar, installing the pedals, tweaking the shifter and derailleur cables. If this work isn't 2nd nature to you, then it would make sense to purchase the bike from a local bicycle store instead of ordering directly.
Can I buy just the frameset and build up the rest of the bike myself?
We DO have a small number of bare framesets on hand for doing additional experimenting and R&D work. If you have a particular build idea based on this frame geometry and feel that the Edgerunner frame set could be just the ticket, then let us know your ideas and we can go from there.
How is the battery attached and removed?
The battery is held in place on a CNC machined rail that secures it with a slight twisting action, and is then locked against theft or removal with an ON/OFF key switch. To remove the battery for charging indoors etc., turn the key switch to "OPEN" and pull the front of the battery sideways, towards the key, while sliding it up.