Page Last Modified On: June 26, 2019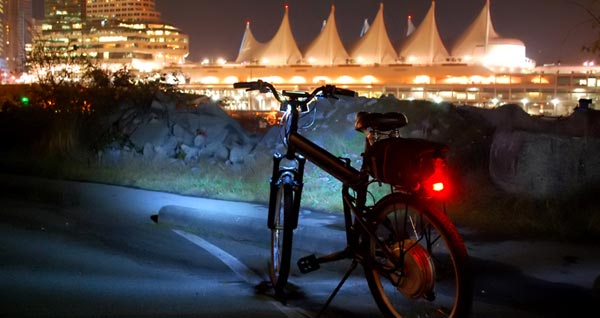 Two Front 12 LED and one Rear LED light. Photo by Mick.
Our series of ruggedized LED ebike lights stemmed in part from frustration with all the inexpensive flashing bike lights out there. You know, the $10 plastic lights with two AAA batteries that shatter all over the ground when you crash, that corrode at the battery contacts when you take them in the rain, that unclip and fall from their mounting bracket, or that simply get lost? In 2007, after growing tired of going through 2-3 cheap LED bike lights every riding season, we set out to make a single light you can strap on your ebike that will last forever and you'll never have to worry about charging separate batteries.

The result of our development is a 100% epoxy encapsulated lighting system that can be run for days under water, driven over with a car, smashed with a hammer, and will still keep running. Our unique manufacturing techniques allow us to include a waterproof on/off/flash button and have the LEDs exposed but recessed to prevent damage. Did we mention that they run off your ebike battery? We currently have two models in production:
Front 12 LED with Bracket

The front light encases a dozen ultra-bright white LEDs in epoxy with a total LED power consumption of about 1 Watt. It will shine with equal intensity from 13V up to 100V, with some brightness from 9.5 - 13V. The 12 LED array is bright enough to light up a wide swath of the road in front. Because of the efficient DC-DC input stage, the current draw from your battery pack depends on the voltage. The waterproof push button cycles through on/flash/off modes and the previous mode is maintained after power cycle. It also uses an adjustable mounting bracket for securing to handlebars or other tubes so that it is easier to aim exactly where you want it. Click here for a graph showing the input current over the full input voltage range.

Rear 8 LED with Button

The rear LED light includes 8 red LEDs and a waterproof on/flash/off button. While only drawing about 1/2 Watt of power, the LEDs are visible from quite a distance behind and the translucent red epoxy provides a nice glow in all directions. As with the Front 12 LED light, the Rear 8 LED light has built in memory, and will remember its on/off/flash state when power is turned off and then reapplied. Click here for a graph showing the input current over the full input voltage range. Rear 8 LED dimensions are 58x24x27mm (2.3x0.94x1.1")
Frequently Asked Questions:
Can the light be powered just from my hub?
If you have a direct drive hub motor (Nine Continent, Crystalyte, Wilderness Energy etc.) the hub motor itself can act as a generator and power the lights up so that you aren't riding in the dark, even if your main battery pack is toast or not connected. So long as the motor controller remains connected to the hub, it will rectify the AC voltage produced by the spinning wheel and convert this to a DC voltage which will supply power to the light. Most hub motors will produce enough voltage at about 6-8 mph to cause the lights to turn on.
Where to Order