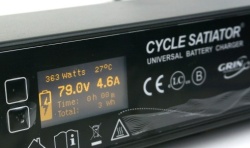 The 72V Satiators have now passed UL and CSA regulatory testing and are in full production in time for every ebike enthusiast's Christmas wish list. Thank you to all those who participated in the beta/pilot run earlier this year while we sorted out details. We've got them listed not only on our store site but also stocked at amazon.com so that our American friends can get free domestic shipping.
As well, we've greatly increased the number of adapter cables available for making the Satiator more plug and play compatible with 3rd party batteries and ebikes. This includes XT60 connectors used RC batteries, 5.5 x 2.5mm DC Barrel connectors used in most frame batteries, Rosenberger plugs on high-end European setups, and 4-pin XLR plugs for the Juiced bikes, along with our previous Anderson and RCA adapters.

All of these cables are available from the drop-down selector on the Satiator store pages and they all include the TRS jack for computer communications with the USB->TTL cable.