The custom line of Grinfineon motor controllers has undergone a big update this fall with the switch to a new control chip. It now runs in silent sine wave mode when the hall sensors are plugged in.

So with direct drive motors the assist is almost as silky smooth as the phaserunners, and in sensorless mode it can run motors up to 28,000 eRPM, making it compatible with even high pole count geared motors like the eZee, BMC, and MAC hubs at conventional cruising speeds. We really can call it universally compatible with any ebike motor in the catalog.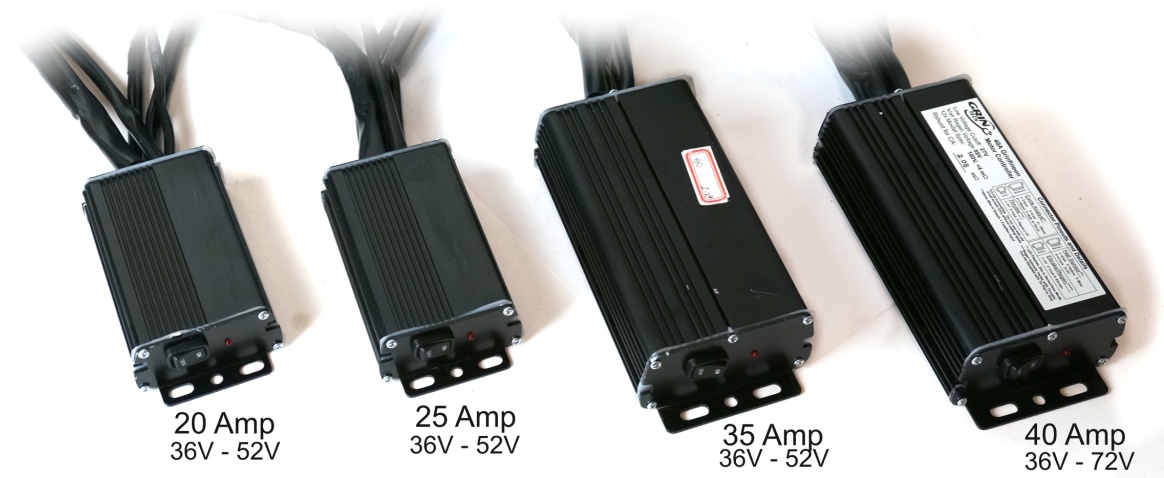 These controllers are all in stock in the 20A, 25A, 35A, and 40A models, and available with the purchase of most of our conversion kits too. We have completed a draft of an updated Grinfineon 2.0 user manual that details this new feature set.
On the downside, we did have to drop a few features that were present in the previous Grinfineon controller circuits:
1) The input voltage range is no longer compatible with 24V packs due to the use of a switching rather than linear regulator, so it is only for 36V and higher setups (LVC of 27V).
2) The automatic hall mapping feature is not available with this sine wave mode. So if you are running sensored, it is necessary to ensure you have the correct hall and phase pinout. Our current version is colour for colour matched with eZee and Crystalyte motors, but other hubs (Bafang, MXUS etc.) may require experimenting with the connections.
3) While we still have proportional / variable regen from a 0.0 to 0.7V throttle signal for use with a V3 Cycle Analyst, the regen from an external ebrake input is fixed at 50% of max. It does not change with application of the throttle voltage.
Very few people these days are using 24V setups and most customers using proportional regen feature have a V3 CA device, so the only real loss here was the automatic hall mapping. However, we found that this feature was causing complications with the trend to higher eRPM motors and decided in the interest of working with fast geared hubs it was best to stick with a fixed hall map. On the whole though, a very nice upgrade that we think you will like. We have remaining inventory of our trapezoidal Grinfineon 40A Devices (for 36-72V setups) with automatic hall mapping available at a special discount for those looking for a great controller deal.