We are so not out of stock!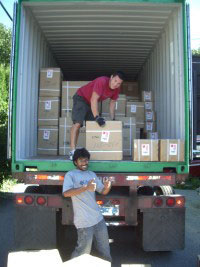 The big summer shipment from Crystalyte has finally been delivered. A container was dropped off with more hub motors, controllers, and accessories than we can possibly fit in the little store. Update: The store got bigger. Problem solved.

Plus the Cycle Analysts have landed - We're now pleased to say that the Cycle Analyst units are available now, either as a stand alone model or plug-in and precalibrated to one of our controllers. More information is available at the Cycle Analyst page.