Page Last Modified On: October 11, 2022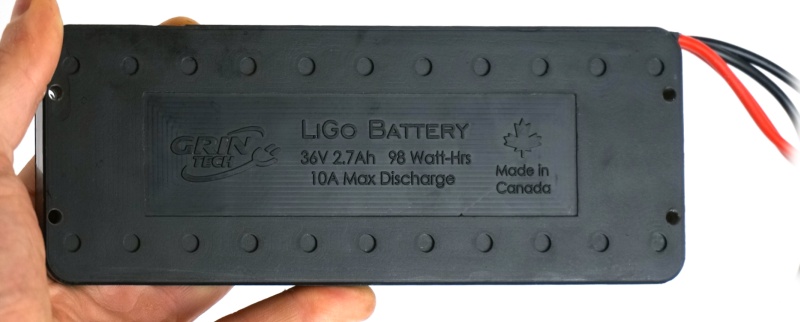 Introduction
Grin's modular LiGo battery was born in response to the massive transportation restrictions placed on large lithium ebike packs. Properly certified batteries under 100 watt-hours are even allowed aboard passenger aircraft with your carry-on luggage. Why not use this as the building block that can be easily re-assembled into a large battery?
After much design consideration we decided to implement this as a flat 10s x1p 18650 cell layout, with every battery having its own independent BMS circuit and each pack being potted to protect against the elements.
Background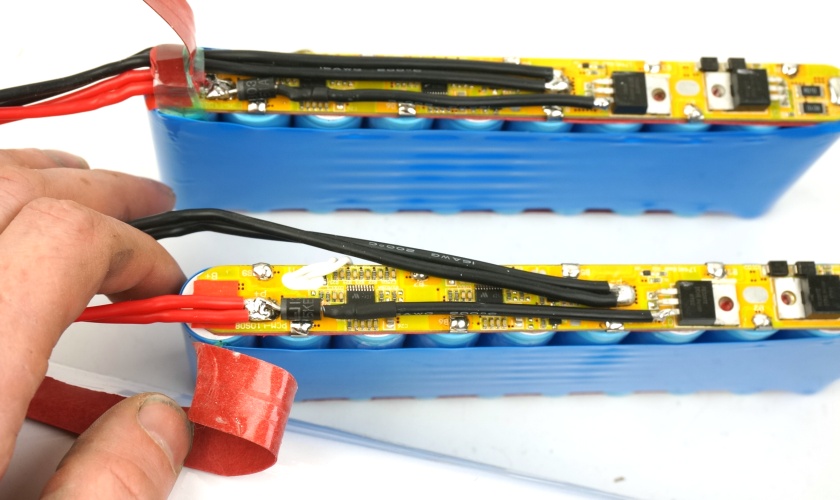 In early 2014 we had a number of 10sx1p batteries made up with an overseas pack assembler running a basic BMS circuit and covered in shrinkwrap, using what were at the time state of the art 25R Samsung cells (for 92 Wh total). That proved the concept and let us validate the process of travelling on numerous international flights with our small battery modules, which were then stacked together on landing into a usable capacity ebike pack.
These little batteries proved useful not just on ebikes but also countless other projects too, from electric skateboards and unicycles that we took to events to portable power for camping trips and even LED boat lighting. However, we also hit many limitations with the imported units, ranging from environmental damage to randomly erratic BMS circuits to cell balancing issues. It became clear that we needed to take both the design and manufacturing in-house, and in 2016 this project picked up in earnest.
Features
Our completed LiGo battery packs have more functions than you likely thought possible in a battery pack.
Rugged fiberglass encased modules can withstand 5m drop
Flat 20mm profile fits under skateboard decks, in small pockets etc.
Design allow easy stacking edgewise and lengthwise
Can readily stack in parallel for required capacity
Can be series stacked for 72V without issue
Integrated momentary push button for on/off and other functions
Ultra low quiescent current drain (<2uA in ship mode)
Five embedded RGB LED's for state of charge and other information
No spark when plugged into capacitive loads
Cell balancing at all voltages, not just full charge
IR compensated over-charge and over-discharge current protection
Connections
Each battery has two pairs of + and - leads on them, which are terminated in Anderson Powerpoles. That allows you to easily plug a number of packs together in parallel, and when you are done you have two Anderson connectors left over. Typically one goes into the controller and the other could run lights or act as a charging port.

Button Functionality
Each LiGo has one momentary button for control and a row of 5 multicolour LEDs to convey info on the pack.
Short Press - View State of Battery
A quick press of the button allows you to see the current state of the pack. A row of green LED's will light up to show the charge level on the battery. If the battery was OFF, then the the red LED OFF animation will play right after this charge level preview. If the battery was ON, then the highest level green LED in the row will stay illuminated in the heartbeat pattern. Notice that this short button press does not turn the battery off or on, it remains in the same state.
Press and Hold - ON / OFF Control
In order to turn the battery on, press and hold the button until the first LED goes green, then on releasing the button you will see the green LEDs light up all the way and show the batteries current charge level. The top LED will then show a green heartbeat pulse letting you know that the battery pack is on.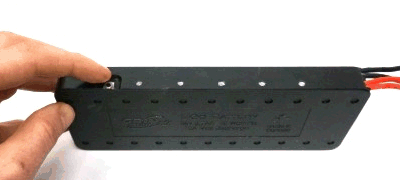 To turn the battery off, press and hold the button again until the first LED goes red. Then on releasing the button, an animation of red LEDs will scroll down telling you that the pack has turned off.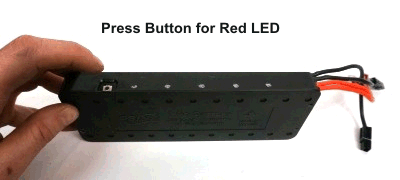 Other LED Animations
In addition to the turn on and turn off animations and the heartbeat, the LEDs on the LiGo communicate other states or fault conditions
Going to Sleep: When the LiGo is about to enter deep sleep mode (such as from pressing the button 5 times really fast), then all the red LEDs will light up and then slowly fade to darkness
Cell Overvoltage: If a cell voltage exceeds the cutoff voltage limit, all 5 LEDs will flash green 3 times quickly. During this cell overvoltage fault, any charge current is blocked from going into the pack but it can still be discharged. Once it has discharged a bit the overvoltage fault should go away.
Cell Undervoltage: When a cell voltage is below the undervoltage cutoff threshold, all 5 LEDs flash red 3 times quickly. Further discharging of the pack is blocked. If the undervoltage condition persists for too long, then the pack will enter deep sleep mode to reduce further quiescent current drain.
Over Temperature: If the LiGo battery gets too hot, the red LED's will light up in the center and spread outwards like a wave. This behavior will continue until the pack temperature is back down to a safe level, and both charge and discharge currents are blocked.
Under Temperature: If the LiGo battery is too cold to be safely charged, all 5 Cyan LEDs will flash 3 times quickly. During this time charging currents will be blocked, but the discharge port is still active. This behavior will continue until the pack has warmed up enough that charging ban be resumed.
Short Circuit: In the event of a short circuit on the output leads of a LiGo, the yellow LEDs will light up in the middle and spread outwards like a wave, followed by all yellow LEDs blinking together. Discharge current will be blocked until the short circuit has been removed.
Excessive Discharge Current: If the LiGo experiences a discharge current that is higher than the max setting but not a full short circuit, it will turn off the discharge port and animate the red LEDs from the button to the discharge port, and then fade out, repeating this cycle 3 times. Discharge current is blocked until either the load is removed, or 8 seconds has elapsed at which point it will turn back on automatically.
Excessive Charge Current: If the LiGo experiences a charging current that is higher than the max charge current setting, it will block additional charge current and the yellow LEDs will animate from the wires toward the button and fade out, repeating this cycle 3 times. During this fault further charge current is blocked and will remain blocked until there is no longer a higher voltage source on the battery leads.
Videos
Specifications
External Specs
| | |
| --- | --- |
| Nominal Voltage | 36.0 V |
| Nominal Pack Capacity | 2.7 Ah (2.75 for LiGo+) |
| Nominal Pack Energy | 98 Wh (99Wh for LiGo+) |
| Dimensions | 201 x 74 x21 mm |
| Weight | 610 g (1.3lb) |
Internal Specs
| | |
| --- | --- |
| Cell Type | 10s x 1p LG-MG1 (30Q for LiGo+) |
| Pack Resistance | 350 mOhm (150mOhm for LiGo+) |
| Discharge Current | 5A continuous, 10A max (15A Max for LiGo+ |
| Quiescent Current | 400uA Operating, <2uA Sleep |
| BMS Cutout Topology | Common Charge/Disch Port |
*Final specification firmware will allow 15A (5C) burst discharge current for short times, current release always trips the BMS at 10A.
Shipping
When we initially developed the LiGo battery modules, the shipping regulations allowed up to 20 batteries in the 20-100 Wh power range to be sent in a single box without any dangerous goods fee. Unfortunately, the DG regulations changed in April 2016 to limit this to just two batteries in a single shipment under PI-965-II.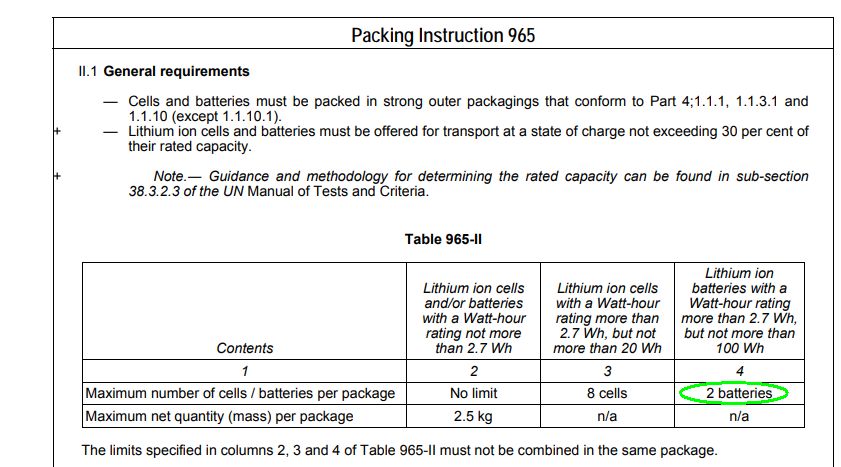 Then for reasons that were never fully explained to us, in 2017 most of the carriers (like DHL, Fedex, UPS) decided to stop accepting packages sent in this provision, requiring all shipments of pure LiGo batteries required the Dangerous Goods fee.
The situation has remained much more favorable though for LiGo batteries that are are shipped along with a motor controller and conversion kit. Batteries sent this way are considered to be packed with equiment and are shipped under UN3481 ,which allows up to 5 kg of LiGo batteries (8 pieces) to be sent with a kit without any dangerous goods fee.
Air Travel
Yes, these batteries really can be carried on passenger aircraft in carry-on luggage. Both we and our customers have clocked hundreds and hundreds of flights with LiGo batteries going through security without any incidents. Aaron even caught on video what happens when LiGo batteries go through the scanning belt. We recommend removing the LiGo packs from your baggage and plugging the pair of anderson connectors on each pack into each other, so that there are no exposed terminals and each pack is clearly individually contained. Airport personnel have been well trained at looking for the watt-hour rating lithium batteries and seeing if they are compliant or not.
While most airlines do not have a firmly defined maximum number of batteries under 100 Wh that can be brought aboard, we'd suggest travelling with no more than 4-5 LiGo's per person in order to avoid extra scrutiny. We have had customers travel by air with as many as 12 LiGo modules on them, but we wouldn't recommend that as a matter of course. Furthermore, if you are asked what the batteries are for it's better to say it's backup power for camping, running bright bike lights etc. than to say it's for powering an ebike. Some staff may have been told that ebike batteries are not allowed on planes because they are (almost always) well over 100 Watt-hours.
Availability
Unfortunately several key IC's used on the LiGo BMS boards became impossible to source in 2021 due to the semiconductor shortages. We had enough stock to produce one final batch of 2000 BMS boards for LiGo and LiGo+ batteries over winter, and sold the last of these in July 2022.
We plan to replace the original LiGo and LiGo+ batteries with a new design based around different IC's which we have dubbed the LiGo 10X. This design uses a squatter 3x4x3 cell layout with embedded XT60 connectors for easier connectivity, and incorporates rail tabs for mechanical attachment to a bike frame. Pilot production is expected in late 2022 with general availability in 2023. You can see a preview in this early video pitch we made for a (failed) grant application.