It's a big day for pedal sensor options here at Grin.
ERider T17's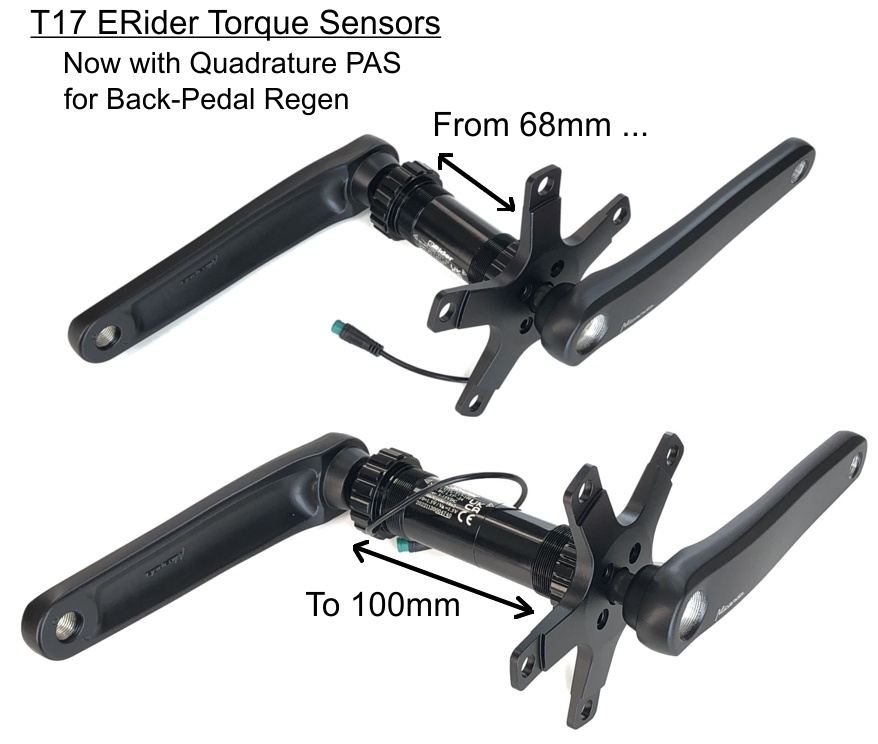 We've just received our first large shipment of the T17 model ERider torque sensors. These have the same convenient side cable exit as the T9 model (no need to drill your bottom bracket), but with two big advantages:
They have 2 wire quadrature PAS sensing enabling the back-pedal regen features of the V3.2 CA firmware.
In addition to the common 68 and 73mm bottom bracket sizes, they are also available in both 83mm and 100mm BB's to use with fatbike frames. So now no MATTER your frame type, we've got an ERider for you.
These sensors are in stock and available by themselves or with any of our conversion kits.
Budget Sensors: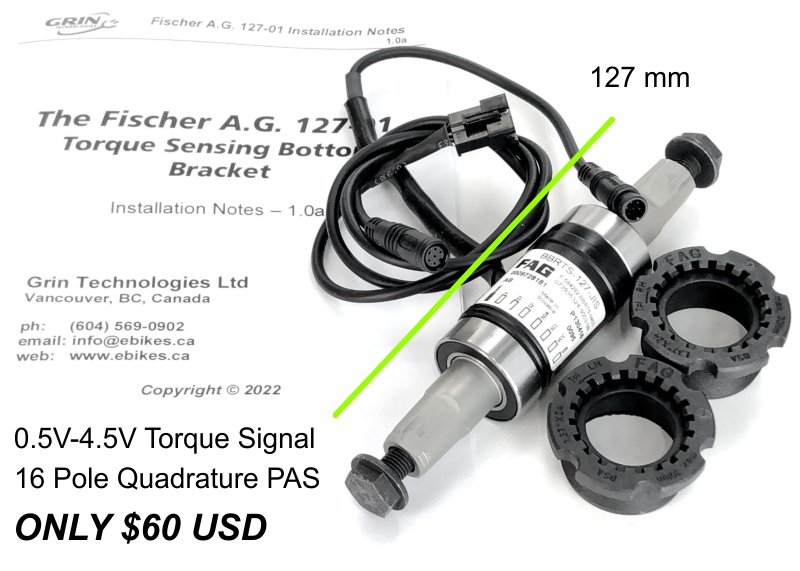 For those who want torque sensing capabilities on a tight buget, we've aquired a large surplus stock of sensors made by the german company Fischer AG at a great bargain price. These are similar in electrical operating mode as the the THUN/NCTE sensors but with a more generous signal range.
Single Side torque sensing (Measures right pedal torsion)
18 PAS pole pairs
Center hole cable exit
We've had to snip and solder on a suitable connector and adapter cable to make them compatible with our kits. There is only a single size (68mm BB shell and 127mm spindle length) and installation requires drilling a hole in your bottom bracket for the cable exit. But if you are cool with that, the $60 price gives full torque control from a quality manufacturer at not much more than a basic PAS sensor.
Basic PAS with HiGo: 
And lastly we now have inventory of our two basic PAS sensors available with a 6-pin HiGo plug for direct hookup to the V5 Baserunner controllers. In our initial deployment they'll be used for activating back-pedal regen on the newly released TSM-A5 motor kits.