It's with a somewhat sad heart that we had to discontinue our popular Lumenator ebike lights earlier this year due to sourcing difficulties on some key parts. While a Lumenator 2.0 is still in the future, we have two new 3rd party front bike lights which we are happy to offer in the meantime. Both the Benex200 and the RoximX4 have StVZ0 compliant optics, which means that they can provide plenty of light on the road without causing blinding glare to oncoming traffic and fellow cyclists. Have a look at the image below to see the firm optical cutoff above the horizon.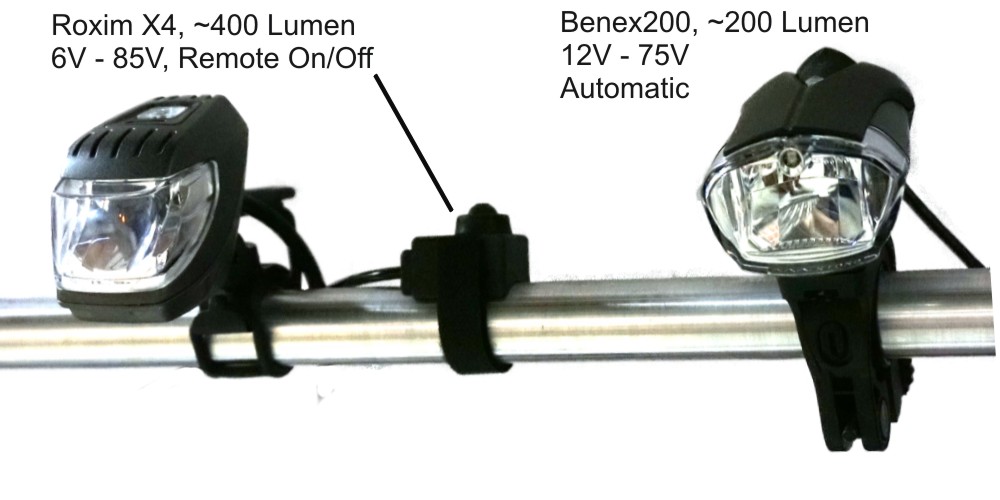 The Benex200 has a 12-75V input range and features both light and motion sensors for automatic control. You can leave the light plugged in and it will automatically turn on whenever you are riding in the dark, and shut itself off after it is parked still for a while or the sun comes out.
The larger RoximX4 light works over an impressive 6V-85V range, meaning that you can power it from a 6V dyno hub right up to a 72V nominal ebike pack. We have custom wired our Roxim light to include a handle mounted push switch for easy on/off control.
Both models have been terminated with the DC 5.5x2.1mm barrel jack so that they can plug in directly to a Cycle Analyst or Anderson Tap. While neither option is quite as bright as our Lumenator, they still work great as a primary ebike headlight for almost all road and trail riding during the upcoming winter season.