Thank you all for the many well wishes for our 10 year anniversary celebrations, it's been a joy having so many customers who have been around for huge chunks of the ride.
Extended Range Satiator Family
While the 10% sale is over, there are other great things to be excited about. First and foremost? We've started our beta sales program for high voltage Satiator chargers. Now rather than being limited to 63V or 15s packs, the 72V 5A model can work all the way up to 103V for 24s lithium batteries for those hot rod ebike applications.

There are a limited number of 24V 15A and 72V 5A units from our pilot production run available for early adopters who don't require UL/CSA certification, and if you order by this weekend with Fedex shipping it should make it in time for the Christmas Tree.
Flexible Power Cables
Secondly, after years of wondering why there were no great heavy gauge cable sources for ebike battery and motor wiring, we decided to bite the bullet and have thousands of meters of our custom cable manufactured.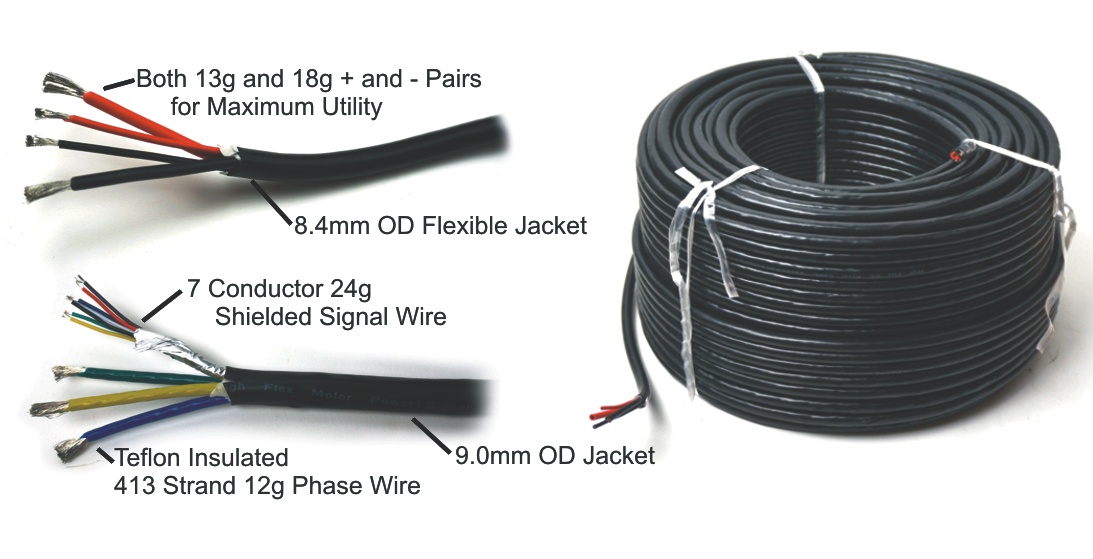 The 3 phase motor cable has high flexibility 413 strand 12 gauge phase wire with Teflon insulation, and also includes 7 signal wires too, for your motor hall sensors and thermistors. All of this is bundled in a round 9mm diameter flexible jacket and it stays flexible all the way to -30oC.
For our custom battery cable, instead of going with 2 conductors, we went for a 4 conductor instead. A pair of heavy 13g wires and a set of thinner 18g wires also with high strand count and flexibility. That allows one cable to have say both the charging and discharging ports on a battery, or an additional tap point for powering accessories. Or, you can just parallel connect the thin and thick wires together to have 12 gauge equivalent.
2015 Housecleaning Garage Sale
And finally, we're clearing out a bunch of used ebike stuff that has been allowed to accumulate over the past year. So if you are looking for some bargain priced garage sale items, John's got everything posted up on an endless-sphere buy/sell thread.