Although we are still staunchly a conversion kit / retrofit company, we've been largely perplexed at the lack of shops in Vancouver offering electric cargo bikes and want to address that. So for this summer at least we are offering two ready to roll turn-key cargo ebikes based on open/hackable drive systems that we think are of great quality and value; the eZee Expedir and the Juiced Riders ODK U500.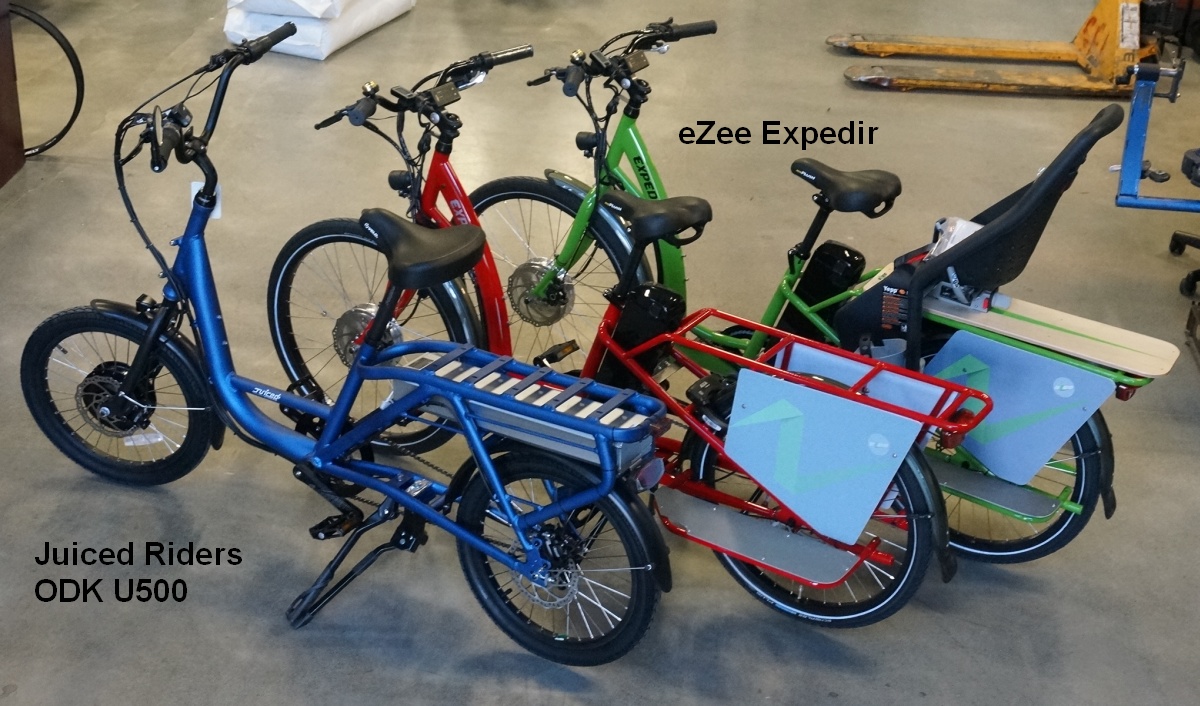 Both of these cargo ebikes have high capacity (>700 watt-hour) stock batteries, hydraulic disk brakes, and torquey geared hub motors well adept at moving heavy loads up steep hills. The Juiced ODK has 20" front and rear wheels with a simple 3 speed internal hub and is meant as a lower barrier and simple to use ebike, with battery options going up to 32Ah for phenominal range. We've worked closely with Tora, founder of Juiced, for many years now and have been ever impressed with his energy and accomplishments and building his accessible utility bike vision into reality. Below is a great recent video review of the U500 bike from electricbikereports:

The Expedir meanwhile is eZee's foray into the cargo bike territory and is a complete bicycle running a more sophisticated hardware set: with 9 speed shimano Alvio RD drivechain, Magura disk brakes, and a sturdy center stand. It uses a 26" front wheel and 24" rear, giving a somewhat lower cargo deck height than say the Yuba Mundo, but not so low that adult passengers have to lift their feet off the ground.
We have the Yepp Maxi child seat and several other accessories available for these bikes. Neither come stock with cargo bags though, and for that we recommend the cargo slings from Carsick Designs.

Other New Stuff?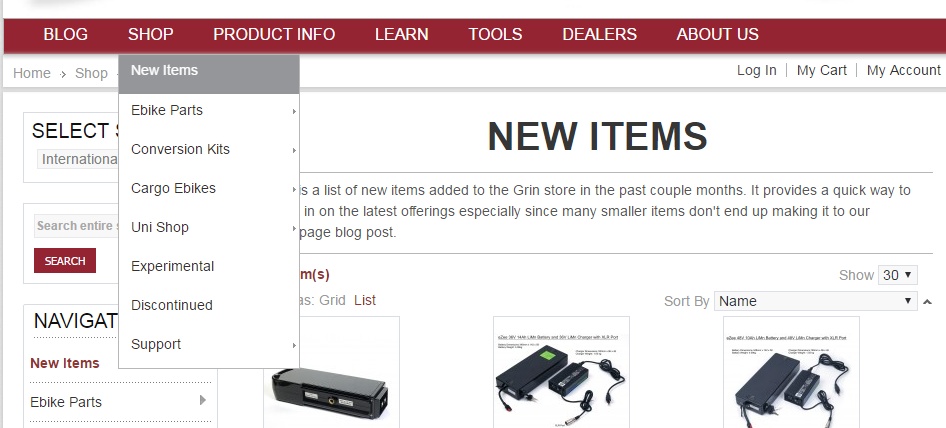 We've added a "new items" category to our website to make it easier for people who check in frequently to see view more recently added goods that are new since the last visit. In addition to these cargo ebikes, you'll see many small items that haven't been announced on our blog, like eZee motor extension cables, handlebar mounted potentiometer for the CA3, connector boxes, the gear sensor cutoff for mid-drives and even the BEAMts chain tension torque sensor.
Plus, the observant may have noticed that the Phaserunner controllers and Satiator chargers are available to purchase again with a back order, meaning we are confident of their near term pending availability.