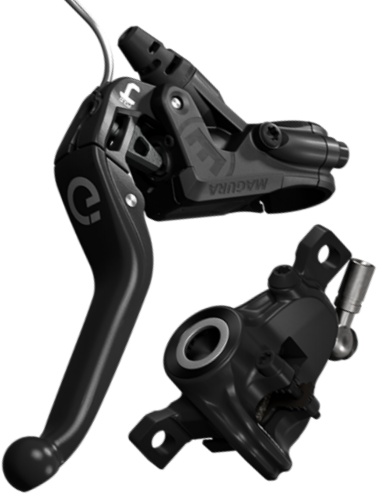 We've been able to add the powerful Magura MT4e hydraulic brake system to our offering of ebike kit accessories. This provides amazing hydraulic stopping power when you need it, with a built-in switch on the lever arm to activate regen or controller cutout.
If you already have hydraulic brakes then the TripWire is a great way to add electric cutoffs to your existing levers. But for those looking to upgrade their ebike from mechanical brakes to hydraulic or building up a new conversion from scratch, these Magura's are among the best.
The brake levers are a symmetric flip-flop design so the same lever works equally well on the left or right handlebar, and come fully bled with 2200mm long hoses. Magura has designed them so that you can then cut the hose to length without the complicated bleeding step if you follow their instructions (See Video Here). The hardware for cutting the hose to length is included with each kit.

We've got them stocked with 180mm disk rotors and various frame caliper adapters to fit this rotor size. For the electrical termination you can choose between a 15cm cable with 2-pin HiGo plug or a longer cable with JST-SM connectors for setups running a V3 Cycle Analyst.