Our Grin battery lineup keeps growing and the latest shipment includes high capacity downtube batteries in the new Reention DP-9C 84 cell enclosure. These large packs provide over a kilowatt-hour of capacity in convenient frame mounted casing, ideal for long distance trekkers.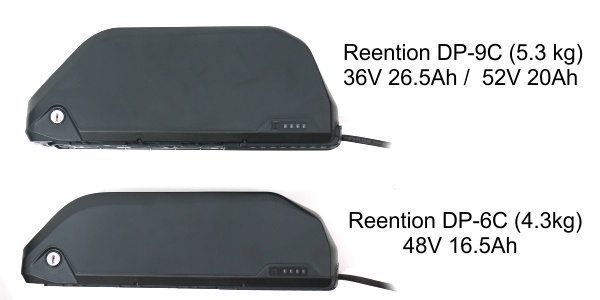 We have both a 36V 26.5Ah and a 52V 20Ah model in stock and ready to ship. We've also got a smaller 48V 16.5Ah Reention battery model for smaller range requirements. These 3 new models are all Baserunner compatible for slick conversions and are available with our Ready-to-Roll kit bundles
72V are Shipping
Last year we expanded our 72V pack offerings to include a 9.5Ah model using Panasonic 21700A cell, but they were for local customers only as we lacked the paperwork and certification to ship them. Well that has been sorted out and these 72V downtube battery packs are now available to be delivered around the world. These packs provide a very convenient approach to doing high speed EV builds without the complications of series connecting 36V batteries or dealing with sketchy pack construction.
LiGo+, Higher Power
We're also putting on the final touches for a new LiGo+ battery module that uses the high power Samsung 30Q cells. These new LiGo+ packs can sustain higher continuous discharge currents (15A vs 10A) and charge currents than our standard LiGo, making them ideal for very lightweight EV builds that are running just 2 or 3 of these modules. For large packs (4 or more in parallel) the standard LiGo batteries are still perfectly suited and the most economical, but for more ultra light systems the LiGo+ packs are just the ticket. .